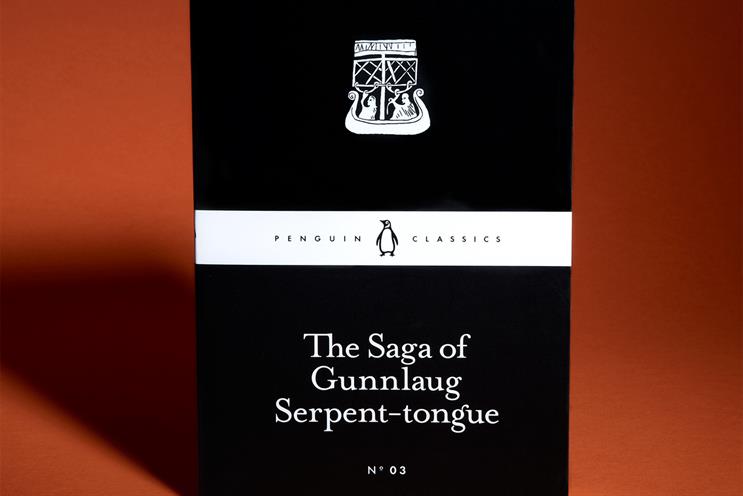 Day three, and we set sail for Northern Europe in the late 10th century.
The Saga of Guunlaug Serpent-tongue is "a Viking-age epic of two poets in doomed pursuit of Helga the Fair". (The key word here is 'poets', but more on that later.)
The feudal worlds of Scandinavia, England and Ireland are brought together in a single narrative, born of the oral tradition and first written down in Iceland about three hundred years after the events it describes. It is a Marvel-esque mash-up of historical celebrity incorporating Kings Olaf, Canute and Ethelred.
The story itself is a simple affair. The giant offspring of two rival Icelandic clans compete for the hand of Helga the Fair. Helga promises herself to Guunlaug. Guunlaug, detained abroad, breaks the terms of his engagement and returns to find Helga married to Hrafn. Strains of 'The First Cut is the Deepest" fill the Icelandic air until the men are driven to violence. Both die, having first hacked each other to pieces, and no good really comes of it.
The plot itself can't teach marketers much, but the way the plot advances, and the way power and influence are achieved in the Viking Age is highly instructive. Incongruous though it may seem against a backdrop of such boneheaded pugilism, poetry is a key mechanism of social advancement.
The ability to charm royal hosts in distant lands; to convince a would-be father-in-law; to win favor with allies – all are dependent on artful communication and the creation of a good first impression. Whatever brawny utility a man can ultimately bring to bear, his opportunity to do so hinges on basic favorability and – insofar as this is a meaningful concept in Norse society – likeability.
Successful brands are likeable and credible. They are fun to be around and they deliver what they promise. If not, people pass them by. The amorous quest in the Saga of Guunlaug is a contest of likeability and credibility. Being tongue-tied is as fundamental a failure as breaking a promise or losing in battle.
So next time you are assessing the state of your brand, ask yourself this: does my brand have a way with words, and is it handy in a fight? And if so, are the things it waxes lyrical about also the things that it believes are worth fighting for? If yes, the world is your oyster, and Helga is your prize.
Giles Hedger is the chief strategy officer at Leo Burnett London & Worldwide.
Read the full 80 Books in 80 Days series here