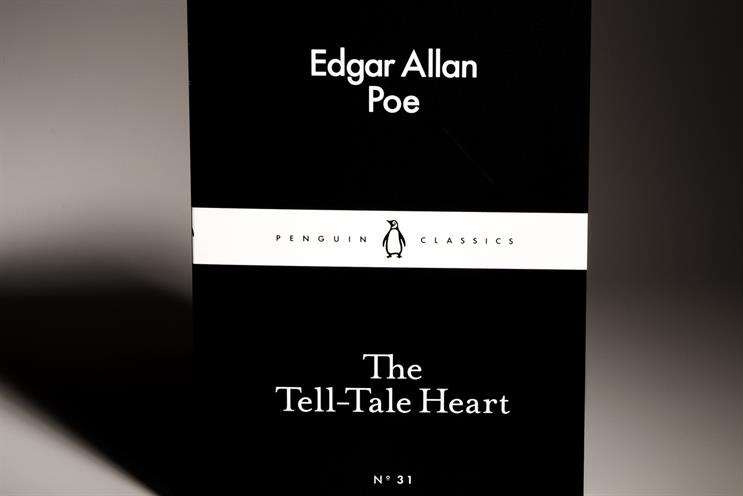 Today Edgar Allen Poe walks us along the tight rope between sanity and insanity in his psychological thriller, The Tell-Tale Heart. So once more I need to shut out the August sunshine, pretend it's the middle of the night, and enter the macabre and fragile world of the human mind.
The Tell-Tale Heart is the breathless short story of a man who, if he is to be believed, has been driven to murder because the sight of someone's white-veiled, vulture-like, always-open eye has become unbearable to him. He has spent a week inspecting it by lantern light in the dead of night as his elderly victim lies sleeping. These obsessive compulsive inspections finally disturb the old man, who then sits awake in his bed in mortal fear, his heart pounding audibly.
This pushes our narrator over the edge, and he first smothers, then butchers, then buries him under the floor boards. When the police come to visit, there is no visible trace of wrongdoing, but the sound of the dead man's beating heart rings on in our narrator's ears until his guilt overpowers him and he gives himself up.
The story is cleverly constructed so that logic permits many interpretations. It is possible that the entire episode is a figment of the (unreliable) narrator's imagination. It is possible that this is the cold-blooded work of a psychopath convinced of his own rightness. And it is possible that there was genuine motive which our narrator has not shared because the trauma of the deed has brought him to focus on a vulture eye as a motive of convenience.
The flaw of the 1941 film is that it commits unambiguously to one of these possibilities. A backstory is developed in which the elderly victim is the abusive master of the man who murders him. The eye becomes the physical motif of cruelty. This removes the ambiguity and alters the intent of the story. It ceases to be an exploration of madness, motive, fear, and guilt; instead it becomes a one dimensional portrait of revenge.
In less than an hour, marketers can read the story and watch the film and treat themselves to a masterclass in idea drift. Powerful ideas often accommodate more than one strand of logic, and when they do it is in the weft of multiple interpretations that their power lies.
On reading The Tell-Tale Heart, subjective preference allows one strand of logic to dominate, but the existence of the other possibilities is what makes this a thrilling, suspenseful and mind-infecting work of literature. It is perfectly coherent, and yet eternally unresolved.
There is a reason why ideas that operate this way are so compelling. They mirror our own condition. We need our existence to have coherence, but we don't want to wake up one day to find that all human mystery has been solved. Human beings thrive on coherent ambiguity, and brands that can provide it tend to prosper.
When people accuse advertising of portraying a world that doesn't exist, they are not complaining about the use of fiction or hyperbole. They don't mean that real people's homes aren't as light and spacious as that, or that real holidays aren't as relaxing. The alienating unreal-ness of marketing stems from its systematic removal of all ambiguity.
People may not articulate it this way, but deep down they know that life is complicated, and they want brands to lead them through complexity, not deny its very existence.
Which is why the work of Poe endures, and why people like Iggy Pop can be heard reading his stories on You Tube.
Giles Hedger is the chief strategy officer at Leo Burnett London & Worldwide.
Read the full 80 Books in 80 Days series here