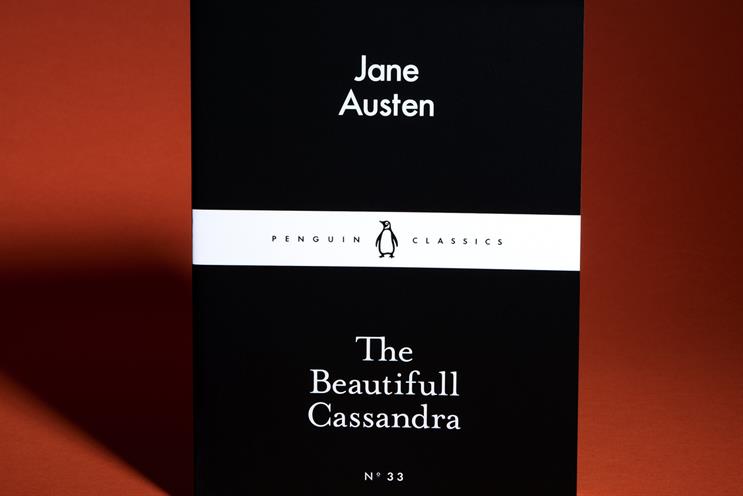 Today's book is The Beautiful Cassandra – a collection of juvenilia written by Jane Austen in her teens.
Composed for her own amusement and that of her family, these early efforts reveal a young mind already rebelling against the literary fashions of the day; they also reveal a precocious gift for parody. It is, in many ways, the 18th century equivalent of #FirstWorldProblems.
Just a decade or two after the publication of landmark sentimental novels such as The Vicar of Wakefield, Tristram Shandy, and The Sorrows of Young Werther, the young Jane Austen starts to poke fun at the cult of sensibility in a way which prefigures the stance of her later work.
The Beautiful Cassandra – from which the collection takes its title – is a micro-novel in twelve chapters that uses just a few hundred pointed words to describe a vacuous day in the life of a Bond Street milliner's flighty daughter. "This is a day well spent" Cassandra whispers to herself, as she is pressed to her Mother's bosom just 7 hours after venturing, newly bonneted, into the metropolis to make her fortune.
In this ironic picaresque, as indeed in the other short stories and epistolary melodramas in the collection, there is a wonderful alignment of style and intent. The style is naïve, exuberant and misspelt; the intent is to poke fun at the breathless sensitivity of the sentimental novel. It is sometimes hard to detect where the young experiment ends and the mature parody begins, but the themes of Austen's later novels convince us that she knew exactly what she was doing, even when she was 12 or 13.
Marketers should read this collection not just to remind themselves how talent is formed; and not just to locate themselves of the sense-sensibility spectrum of brand-building; but because in these premature fragments there is an act of nascent rebellion.
When we visit her cottage in East Hampshire or settle down on a Sunday evening to yet another exquisite remake, we don't think of Jane Austen as a rebel. History shows us the demurely silhouetted daughter of an affluent 18th century rector, and we imagine an obedient child-prodigy stitching bonnets at the fireside. What this collection reveals is a spy within the ranks of the landed gentry – an arch observer of the comedy of manners before her.
At the heart of any client-agency relationship there needs to be a healthy disrespect for the fashions of the day. Culture has become so solemn and powerful a force that we have come to respect it, rather than play with it, and that is probably a mistake. The young Jane Austen has been compared to Monty Python, and we should all look at life more often and observe its ridiculousness. Brands that revere the way we live now, just because there are billions of us living that way, will ultimately become invisible parts of a monoculture. Much of life is ridiculous, and acknowledging this is a rich source of distinctiveness.
If you want to know what I mean and you only have a couple of minutes to spare, read the letter at the end of the collection, entitled 'A Letter from a Young Lady, whose feelings being too strong for her Judgement led her into the commission of Errors which her heart disapproved.' Read this brief gasp of literary parody before your next creative review, and ask yourself whether you would rather revere the genre into which your category has led you, or toy with it.
Giles Hedger is the chief strategy officer at Leo Burnett London & Worldwide.
Read the full 80 Books in 80 Days series here