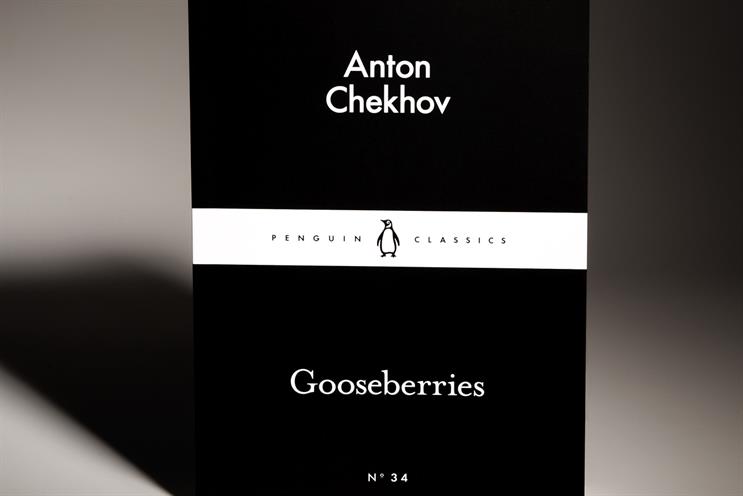 Sometimes you read a book and one passage leaps off the page and grips you firmly by the wrist and asks that you stop what you're doing and consider carefully what has just been said. In Gooseberries, by Anton Chekhov, there is just such a passage.
In this short story – one of over 200 that Chekhov wrote as he perfected the genre – a man's entire life changes when he observes the moment when his brother, Nikolay, achieves happiness.
One minute we are admiring the deft social landscaping of pre-revolution Russia, and the next minute we are hanging on an existential precipice. It is a hallmark of the stories in this collection. They crystallize without warning into vertiginous soul-searching.
Nikolay has always dreamt of owning gooseberry bushes. To sit in his own garden and taste gooseberries from the bushes he has planted there, is to him the quintessence of fulfilment. He has devoted his life to rising above his peasant ancestry and retiring from the world to a country estate where he can watch his ducks and marinade in his own contented insularity.
In his forties, Nikolay marries "an ugly widow" for whom he apparently feels nothing, and on her death uses his modest wealth to raise a mortgage on a 300-acre manor house. There is an industrially polluted river where the duck pond should be, but Nikolay is unperturbed and plants 20 gooseberry bushes to seal his achievement and complete his dream.
The scene is set; a man has schemed and penny-pinched his way to social ascent, and now sits, nouveau-plump and squire-like, amid the chaos and false patronage of his ill-run estate, tasting gooseberries with his brother.
"They were hard and sour, but as Pushkin says: 'Uplifting illusion is dearer to us than a host of truths.'"
Behavioural economists will observe that there is considerable 'sunk cost bias' at play here. If there is litter at the top of Everest by the time I get there, I won't allow myself to be disappointed. But that is not Chekhov's point.
Our protagonist is quoting a line from a Pushkin poem. By translators' consensus, a truer rendition would be "The illusion which exalts us is dearer than ten thousand truths".
With marketing evolving as it is towards a state of self-conscious authenticity, these 11 words demand a professional interpretation. Advertising's guilt was that it allowed people to be exalted by illusion, and most of the shifts in the media business model, the social contract around marketing, the relationship between consumer and brand, the style and substance of the advertising conversation, have been towards a more open, transparent and truthful place. Words like 'authentic' have become universally aspirational epithets in all marketing departments. We have replaced Showing and Telling with Doing and Being, and the once hidden art of persuasion has become public property – fashionably embodied in the science of behavioural psychology.
And yet, it is possible that in an attempt to align marketing with the public interest, we have neglected a crucial feature of human nature. Does marketing always need to be about the transparent and sustainable alignment of truths, or is there still room sometimes for the creation of an uplifting illusion? The former assumes there is a destination called happiness, whereas the latter allows us to be happy along the way.
The word happiness can be found at the top of many brand ladders, but it's hard to think of many brands that help people achieve that state on a daily basis. It is far easier to think of brands that position happiness as a destination and enslave people in the idea that you can work towards it. What creates permission for this is the false equating of happiness with self-actualization. If it's at the top of the pyramid, it must be a noble destination. And yet, among the 17 attributes of self-actualization listed by Maslow, happiness is nowhere to be seen. Marketers need to remember this, or they risk creating 'gooseberry moments' on an epic scale.
I for one am haunted by the idea that our journey to happiness concludes in a solitary bedroom with the fetishizing of unripe fruit:
"This was a happy man whose cherished dreams had come true, who had achieved his life's purpose, had got what he wanted and was happy with his lot – and himself. My thoughts about human happiness, for some peculiar reason, had always been tinged with a certain sadness. But now, seeing this happy man, I was overwhelmed by a feeling of despondency that was close to utter despair. I felt particularly low that night. They made up a bed for me in the room next to my brother's. He was wide awake, and I could hear him getting up, going over to the plate and helping himself to one gooseberry at a time."
Giles Hedger is the chief strategy officer at Leo Burnett London & Worldwide.
Read the full 80 Books in 80 Days series here