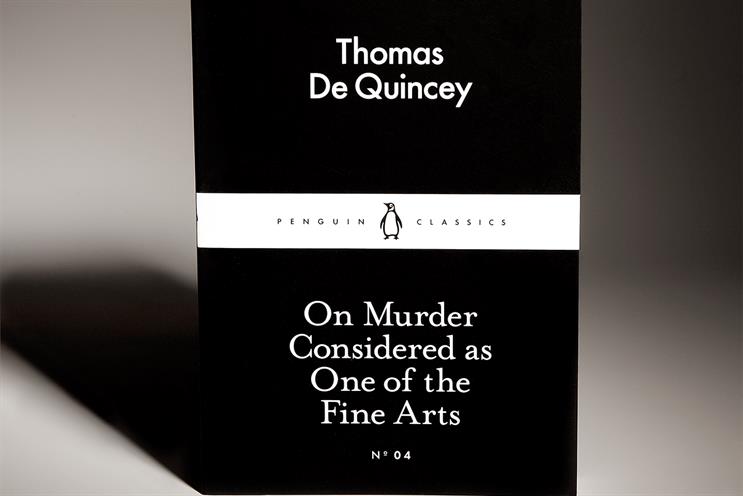 4. On Murder Considered as One of the Fine Arts
by Thomas De Quincey.
It's day four and the subject, weirdly, is murder.
Thomas De Quincey is probably best known for his Confessions Of An Opium-Eater, but this brief and erudite masterclass in black comedy is considered a landmark at the intersection of crime and literature.
Prompted by a series of brutal murders in London's East End in 1811, On Murder as One of the Fine Arts is a fictional and satirical account of a talk given to a gentlemen's society in the early 19th century.
If you are a Dexter fan, you may appreciate the way in which De Quincey elevates, with a humorous and post-modern eye, the commission of pure evil to a self-conscious, competitive, convention-observing art form.
Simon Schama fans also rejoice, because this is a sweeping and imaginative account that extrapolates the aesthetic merit of millennia of milestone murders from Cain's defining dismissal of Abel, to the unsolved back-alley butchery of 19th century London.
Written sixty years before the Victorian aesthetes had achieved their fin de siècle climax, and long before the severed head of John the Baptist was a fashionable literary motif, De Quincey performs that audacious moral subversion by which the act of murder is separated from the art of murder, in order that principles of connoisseurship can be applied.
We learn how Milton's most important poetic embellishment, in Paradise Lost, of Abel's otherwise brutish and monochrome Old Testament murder was the addition of "a warm, sanguinary colouring".
We nod sagely at the distinction between murder and assassination; we muse on the different cultural value placed on the death by foul means of a monarch versus the paranoid ideological end to which philosophers have, for centuries, succumbed.
We explore anecdotal near-murders, and we acquire intriguing technical fluency in such matters as the murderer-meets-murderer genre, or "diamond-cut-diamond" as it is apparently known.
We become so versed in the history of homicide that we start to engage with the book's central assertion that "something more goes to the composition of a fine murder than two blockheads to kill and be killed".
The fact that we do so is the real triumph of this book. It is a masterclass in rhetoric, and agencies should study it as a lesson in how to subvert assumptions, and how to carry an unwinnable argument. It is a comic essay of extraordinary persuasiveness, and persuasion is the unwritten word above every agency's door.
Giles Hedger is the chief strategy officer at Leo Burnett London & Worldwide.
Read the full 80 Books in 80 Days series here