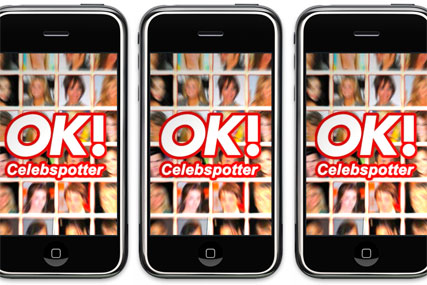 OK! Celebspotter is a location-based app that keeps users in the loop with celebrities' favourite restaurants, bars, pubs and clubs.
The lifestyle app also carries real-time entertainment listings and uses content drawn from 20 different providers, including Celebrity Bulletin, the Press Association, Itchy City and Squaremeal.co.uk.
In addition, Ok! Celebspotter offers a 'utility app', which allows users to find a late meal, a taxi, supermarket or bus home among other things.
The app is available in Apple's iPhone App Store and costs £1.79 to download. It was developed with mobile app formats developer Jeanie Media, who linked celebrity content to location using Google Maps.
Alexander Fairfax, managing director of Jeanie Media, said despite providing information about celebrity hotspots, the celebrity updates do not occur in real time, but once a week.
Knowing the exact location of Katie Price, for example, he said, "would be too controversial. You don't want this to be construed as being a stalking app. It's more: 'Hey guess what, here's the inside track on how to live like a celebrity'. The data is all retrospective."
Fairfax added: "It is a location-based app that combines all the glitz and glamour of OK! magazine.'
Farzad Jamal, group internet controller for Northern & Shell, owners of OK! magazine, said: "This is the perfect app for us. We are all about celebs and how they brighten up and make our social lives more interesting. OK! Celebspotter is a mobile-relevant extension of our brand and our passion for glamour in this very special medium."