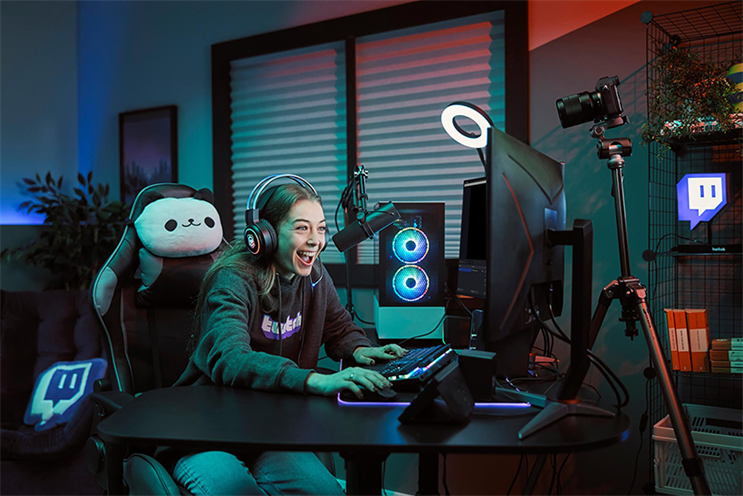 Generation Twitch is ready. Ready to influence, ready to shift the social conversation, and ready to exert its power on the economy. 
Made up predominantly of Gen Z, but also including Millennials and in the future Gen Alpha, the sizable digital-first generation is highly influential and lucrative, and it is in the digital world that they feel at home. 
Are brands ready to take advantage of Generation Twitch's power? Have they started building the right relationships to effectively engage them now and in the future? 
Fortunately, there is a simple starting point. Livestreaming service Twitch has identified five emerging behaviours among the generation that need to be at the forefront of any engagement. The behaviours determine that content should be authentic, fluid, inclusive, collaborative and purposeful.
We take a look at why these emerging behaviours can be supercharged by Twitch's live experience, and how these provide brands the opportunity to not only engage with but be embraced by Generation Twitch. 
Supercharging changing behaviours 
Every generation sees a shift in how it communicates compared to previous generations. The key for brands is to not only recognise these changes, but to fully embrace and keep up to date with them.
So that means starting today.
Research undertaken by Twitch - Generation Twitch: Leading Cultural Change - explored four pillars that make up the service - gaming, live experiences, livestreaming, and shared experiences to unearth the five emerging behaviours mentioned above. These behaviours can be discovered across a range of media, but there's one aspect of Twitch which brings these behaviours to the fore on the service: live streaming.
"Livestreaming has more to it than just, say, watching a broadcast live on a TV service," says Paul Nesbitt, director of international measurement and insight at Twitch. "When streamers broadcast content on Twitch, they are sharing their passions with a community who share the same interests, whether that be gaming, cooking, music, or art. 
"During a livestream on Twitch, streamers can interact with their community, and community members can interact with each other, which creates a collaborative, interactive experience." 
Live content is at the very heart of Twitch. It is after all one of the world's leading livestreaming services, bringing millions of people together every single day. Twitch streamers broadcast on average over 2.5M hours of content each day in 35 languages worldwide, a figure that should have brands paying attention. 
To Generation Twitch, live is everything: Leading Cultural Change research shows that 77% of Twitch viewers say they are more engaged and attentive watching because it's live, while 75% say it means more because it's live and unfolding right now. 
Crucially for brands, the live experience electrifies and boosts the five behaviours:
Live supercharges authenticity. Live content cannot be scripted and streamers can't be live for hours at a time, interacting with their community, without being authentic. Streamers are being themselves whilst improvising in response to inputs from their audience.
Live supercharges fluidity. Live content uses the most innovative forms of communication. It's fluid, open-ended, unpredictable, and never-to-be-repeated.
Live supercharges inclusivity. When you're live, you can be live to everyone, everywhere. It allows anyone to engage and interact equally, without barriers.
Live supercharges collaboration. Connecting live through shared values with like-minded people in a community setting allows a real sense of togetherness. The community can laugh together, cry together, and interact with each other for shared goals and purposes. On Twitch, dynamic extensions and polls allow audiences to collaborate and make decisions collaboratively. 
Live supercharges purpose. The live experience can amplify communities' attempts at driving positive change and raise awareness of causes. "There are a number of examples of Twitch Streamers using live streaming to raise money for the causes that matter the most to them," says Nesbitt, as an example. "Take the annual Z Event in France, which last year raised €10m in 50 hours for environment and climate causes."
Positive emotional content 
Nesbitt says there are three key reasons why Twitch is so popular among young adults.
"The first one is because the content is fuelled by passionate people with shared interests," he says. "The content is also long-form; streamers can broadcast for hours at a time, which is why viewers are so engaged with the content. 
"The second is the fact that it's live. It only happens once in that very moment. 
"The third is because Twitch is a service that can cater to all five of the emerging behaviours and content needs of Gen Z. In other words, it's passionate, long-form content that hits the needs of Gen Z." 
Watching live content together also creates a heightened positive emotional state that brands can use to increase their standing among Generation Twitch. 
"A lot of work has been done by research agencies that have quantified the link between driving positive emotion in advertising and increase in market share for brands," says Nesbitt. "The Twitch live streaming environment generates high levels of positive emotion. We have also seen a direct relationship between emotion and brand recall using our internal measurement solutions, and this creates a huge opportunity for brands to get involved on Twitch when they want to build equity."
Research shows that consumers will use emotions ahead of information when evaluating brands and that if someone has a positive emotion towards a brand, they are far more likely to remain loyal.
Twitch's research shows that 74% of viewers feel they can experience the emotion along with the streamers, and they are more likely to feel excited, amused, and involved when watching content on the service. This has been driven by how shared experiences, in particular live virtual experiences, have changed due to technology developments. Digital and live environments are now home to the kind of spontaneous experiences that were once associated only with in-person events. 
"What makes Twitch special is the interaction itself," says one viewer, quoted in Leading Cultural Change. "It's like being at a live concert; there can sometimes be thousands of people sharing emotions at that same moment."
How to play live 
The opportunities for brands to reach Generation Twitch are enormous, and the good news is that Twitch viewers are very welcoming of brands.
"As long as you advertise with the right feeling, then any company can do it," says one viewer quoted in Leading Cultural Change. Another says: "There are increasingly more and more ads that aren't holding to the generic TV script of product placement… They're colourful, unique. They stand out."
"Twitch advertisements have an opportunity to be interactive," says another viewer. "What makes Twitch unique is the ability of the streamers to play ads on their terms and for people to interact through emotes." 
These quotes aren't outliers: 69% agree that any brand can advertise on Twitch, while 60% agree they prefer to use or buy a brand if they know they can advertise on Twitch. Brands can also dare to be more creative, with over 70% agreeing that brands can be bold and playful on the service. 
Ready to go 
Building immersive, authentic and interactive content within a live streaming environment provides a unique opportunity for brands to be more playful, humorous and immersive. 
In some cases this can be a step change away from how brands have advertised previously, so Twitch has started implementing new measurement solutions to help brands navigate this change. 
"The first one is attention measurement," says Nesbitt. "We believe it is important to demonstrate the high levels of engagement with advertising that a brand receives on Twitch. By measuring consumer attention, we can demonstrate that the brand and brand messaging is being noticed by our community. 
"The second of these is emotion measurement, which we use to measure whether creative and messaging is being well received by Generation Twitch. We also use these metrics to help brands design creative that is authentic and relevant."
Generation Twitch is here. Now it's for brands to tune into its power.