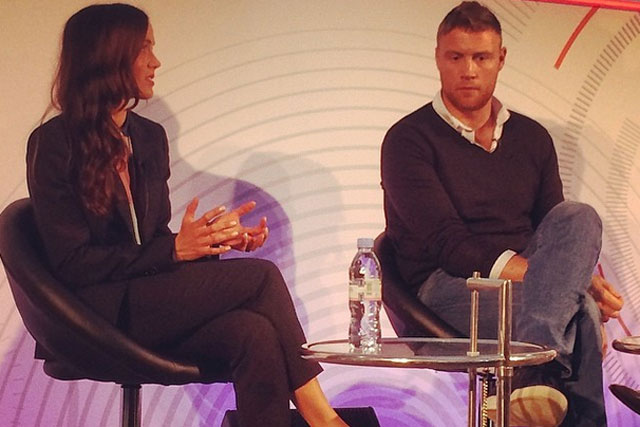 1) Sorrell's view on Google
There were queues out of the building as Sir Martin Sorrell, the chief executive of WPP, and Robert Thompson, the chief executive of News Corp, quizzed each other on the future of newspapers, the need for transparency in media operations, and the success of Google, which Sorrell hailed as "all powerful".
2) Facebook creative boss: "data can be annoying"
In one of the day's opening talks, Mark D'Arcy, the director of global creative solutions at Facebook, argued that data can be an "annoyance" and platforms are not inherently interesting.
3) Sir Trevor Macdonald on digital developments for TV
The veteran broadcaster told us why more TV channels in the age of digital can only raise quality standards. Other famous faces were also spotted: Victoria Pendleton and Freddie Flintoff debated whether people are born with talent or achieve it through "sweat" and hard work. In another hotly anticipated session – also on a boarder topic than advertising – Steve Coogan spoke to Empire magazine about his latest films and advertising on screen.
4) Danny Rogers' top ad of the year so far
Ahead of chairing Campaign's Creative Exchange with a panel of executive creative directors, Campaign's editor Danny Rogers revealed his favourite ad of 2014 so far.
5) Ignoring women in tech "costs the UK millions"
Blogging for LIVE@AdvertisingWeek, Belinda Parmar, the chief executive of Lady Geek, which campaigns for tech companies to change the way they speak to women, claimed the estimated cost of neglecting female technology consumers in the UK is £588 million.
6) Behind the scenes at AWEurope
We showed you how Advertising Week 2014 had to build a whole new venue to accommodate its guests, and found out that the AWEurope executive director, Matt Sheckner, has a staggering 43,000 unread emails.
7) If you're happy and you know it
Seminar conventions were refreshingly broken in IPC's session 'Inspired Conversations: Why women really rule the tech world', where a mass Danish clapping game was instigated.
Follow live coverage of Advertising Week Europe on LIVE@AdvertisingWeek