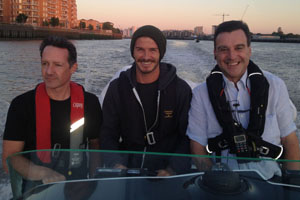 Beckham piloted a speedboat along the Thames on 27 July to carry the Olympic flame on the final leg of its journey to the Olympic Stadium. It was collected by Steve Redgrave who carried the torch into the ceremony.
Livett's were brought in by London 2012 Ceremonies and the BBC at the start of the year to help plan the sequence.
The Livett's team chartered the boat which carried Beckham and young footballer Jade Bailey and trained them for the stunt. It also coordinated the route and oversaw the installation of the temporary pontoon where the flame was handed to Redgrave.
Chris Livett, director of Livett's, was on board for the stunt to coordinate river traffic and communicate with the production team, Port of London Authority and the police.
He said: "Planning such a high profile event in secret has not been easy and there have been details which I couldn't even reveal to my family. But the meticulous attention to every detail ensured that it ran smoothly and it remained a surprise to all those who saw it live and on TV."
Livett's Launches' sister company Thames Luxury Charters provided The Erasmus boat as a holding area for the production team as well as David Beckham and his family.
Butlers Wharf pier, which is owned by Livett's, was also used in rehearsals and as a base for the team on the day.
What did you think of the speedboat entrance? Comment below and let us know.
For more in-depth and print-only Olympics features with official brands, don't miss the next issue of Event magazine by subscribing here.