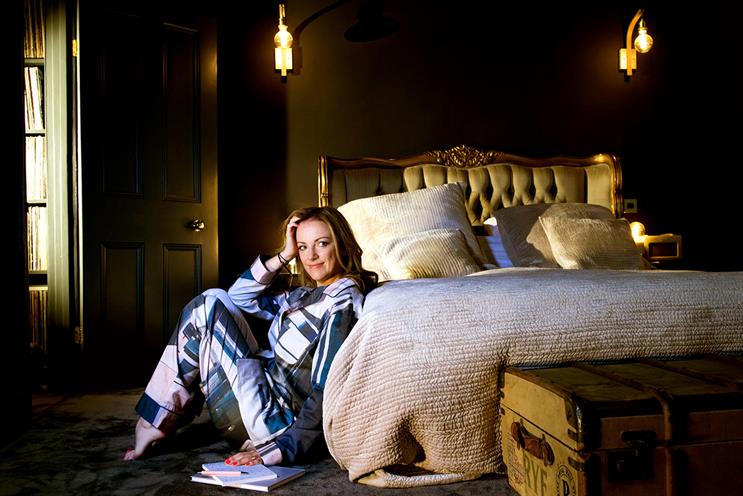 The brand, which launches today with a crowdfunding campaign, is open for donations and pre-orders. Pjoys will launch six limited edition pyjama sets that feature print designs from international artists in gender-neutral styles.
Michelle Morgan, founder of the brand, said: "We utterly believe that mental health doesn't have to be an awkward conversation and that the more quickly we normalise talking about our mental health, the more quickly we'll normalise the narrative and remove the stigma."
To promote the launch Morgan and the team will be wearing their pyjamas on the school run, on the train and in businesses across London. Morgan will be sharing her own mental health journey
The brand was developed by Morgan alongside her husband, contemporary artist Remi Rough, and branding expert Susie Moore, who has also experienced mental health issues within her family. She focused on the duality of pyjamas and taking a 'pyjama day', which while for some is a calm and relaxing moment, while for others it signifies a difficult day. According to Morgan: "Pjoys uses this symbolism and the joy of art as a way to start a conversation about self-care and make mental health a more accepted topic."
The pyjamas have been developed with top international contemporary artists from across the UK, Germany and the US. These include Rough, Nicky Hirst, Augustine Kofie and Mad C.
The supply chain for the pyjamas is packed with purpose; made with sustainable organic cotton, digitally printed and designed locally in London.
Morgan added: "With one in four people in the UK affected by mental health each year, it is something that affects us all in some way. Pjoys is our platform to help make a difference."
Morgan has been a trailblazer for changing the conversation surrounding mental health in adland after taking to the stage at Cannes to share her own struggles with burn-out.
Since then Morgan says not a day has gone by without someone in the industry getting in touch to share their own mental- health problems with her. "We are comfortable talking about wellbeing, but mental health is something we still struggle to talk about," she adds.
According to Morgan, breaking down this barrier demands that we create a new language around how we feel, to enable us to break through this taboo. "We all have mental health. It can be great, mediocre or poor, and we need to look at how we create permission to have the right conversations in the workplace," she says.