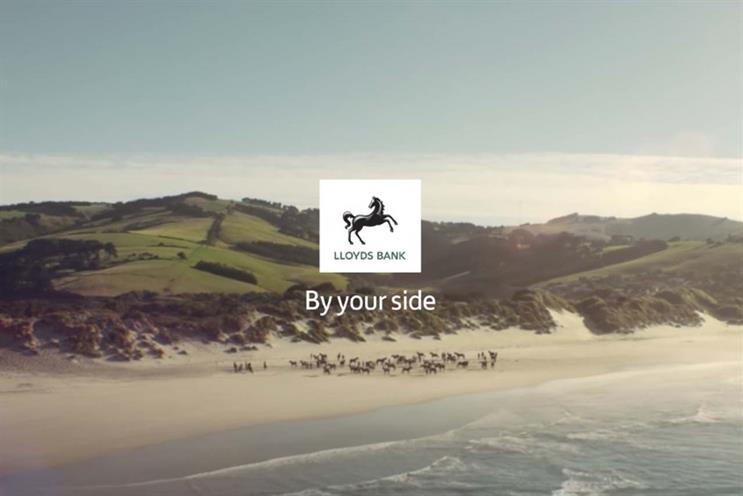 That is according to a survey of 2,006 UK adults carried out last month by ComRes and funded by litigation funder Therium on behalf of broadcaster Noel Edmonds, who is a high-profile victim of the fraud.
Former HBOS manager Lynden Scourfield was jailed for 11 years in February for a scam that defrauded hundreds of small business owners between 2002 and 2007, including Edmonds. Five others were also sentences to a combined total of 36 and a half years.
Lloyds TSB, as it was then known, bought HBOS for £12bn in 2008.
The survey will make troubling reading for the banking group. Six in 10 members of the public said the case, and Lloyds' subsequent actions, had decreased their belief the group acts in the best interests of its customers.
When it came to the slogan, "By your side", 57% of those surveyed said Lloyds should be prevented from using it. Among Lloyds' own customers, only 36% said it should be allowed to continue doing so.
"By your side" was featured in the brand's first ad by Adam & Eve/DDB in 2015, which brought back the black horse to Lloyds Bank's advertising for a 250th anniversary campaign.
Although the fraud took place before HBOS was part of Lloyds, 63% said that Lloyds senior management claims they were unaware of fraud being committed at HBOS prior to the purchase of the bank were not believable. Just over half (54%) of Lloyds' current customers agreed.
The vast majority (84%) of the public and 80% of Lloyds' customers said that someone in senior management should be held accountable for the fraud case or the response in providing resolution for customers.
The BBC reports that almost 90% of victims have received offers for compensation, while 80% have accepted and settled their cases. But Edmonds has made headlines by saying he believes he is entitled to £64m in compensation, and that the group has not put nearly enough aside for compensation payments.
Edmonds said: "Lloyds spent £25m last year on its Black Horse brand commercial using the line 'By your side', money which should have been spent compensating fraud victims."
Having claimed he and other victims had faced "bullying and obfuscation" from Lloyds' senior management, Edmonds added: "If it's so clear the extent to which this continued behaviour is damaging the brand in the public and their own customers' eyes – that the senior management might apply the brand values which they claim to espouse and now deliver on them."
Lloyds Bank did not return a request for comment.