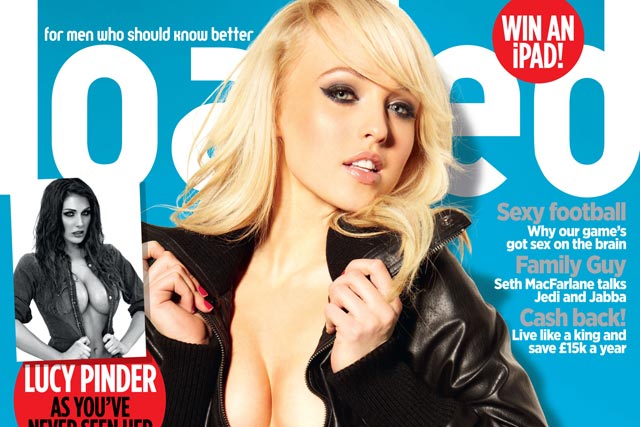 Loaded publisher Vitality has instead decided to focus its resources on the core magazine's cover stars, content, and the launch of its first in a series of brand extensions.
The title – which was previously owned by magazine giant IPC – was sold to Vitality in October last year.
The final smaller edition was the June issue.
The move comes as Loaded's core magazine continues to suffer a precipitous fall in sales.
In the latest ABC figures for the six months to December 2010, Loaded's circulation plummeted 30.8% year on year to an average monthly sale of 49,448 copies – a fraction of the 450,000 copies it sold during its pomp in the mid-1990s.
The first smaller version of the magazine went on sale in February, a move that coincided with the revamp of the main title, which included a move to improved A4 cover stock and a larger A4-format size.
The content of both magazine versions was identical and each were priced £3.90, with the smaller edition nationally distributed with promotions in WHS High Street, WHS Travel, Asda and Shell.
A spokeswoman for Vitality told Media Week: "We decided that it was not expanding our readership, so we took the decision to reinvest the money in cover and content.
"Like other publishers, we have found that 'pint-sized' covers were not commercially viable."
The spokeswoman said the decision to drop the smaller edition was part of a "long-term strategy" to reinvest income into attracting engaging cover stars, such as the cast of 'The Inbetweeners', who feature on the issue out today (19 July), improving content generally, and developing brand extensions.
Dropping the smaller edition came ahead of Vitality announcing the first in a planned series of Loaded extensions, a partnership with Frosty Jack's cider to launch a podcast hosted by comedian Dom Joly.
The first in the series is expected to launch today, with special guests including Ricky Hatton, Dermot O'Leary and musical outfit, Scouting for Girls.
Loaded, which was launched in 1994, aimed at 18- to 34-year-old men, rode on the success of the lads' mag era throughout the 1990s, but suffered throughout the decade as the interest in such titles waned.