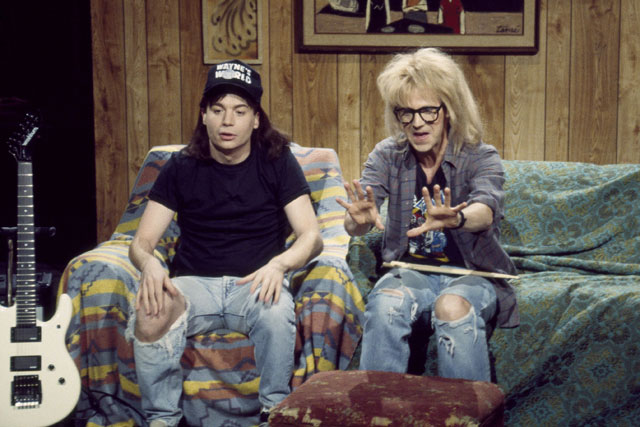 How many of us, hand on heart, and without any recourse to Google or Wikipedia, can honestly say they know where Limavady and Mold are? Well, shame on us.
But their centuries of comfortable civic obscurity may soon be brought to an untimely end, thanks to the Government's latest media wheeze - local TV.
Limavady and Mold are two of the names on a wish list published last week by Ofcom at the behest of the Culture Secretary, Jeremy Hunt. It identifies the sorts of places where local TV could work technically and might work practically if the right sorts of people can be encouraged to come forward and bid for licences.
We're nowhere near the stage when Hunt can begin drawing, in finest tombola style, names from a hat. But still. This is being hailed in some circles as a great leap forward - after all, local TV has long been an item on the collective wish list of the political classes.
The notion is that local media (press originally and, more recently, radio and the internet) are good for local democracy and social cohesion - and that they also provide training opportunities and (some measure of rather poorly paid) local employment.
Until recently, local TV wasn't really possible because of lack of spectrum capacity - but in the digital era, that is not quite the issue it once was.
So, a new opportunity can now be wedded to a longer-standing motive - and Hunt is particularly committed to the notion that the UK media industry is "chronically over-centralised". He's hardly alone in this particular tenet of social- engineering ideology - that is why parts of the BBC are being dragged kicking and screaming to Salford.
The goal now is to licence the first local stations by the summer of next year and the hope is that we'll see at least ten local stations up and running by 2015.
And some might turn out to be very local indeed. Other interesting names on Hunt's longlist include: North Devon's most interesting metropolis, Barnstaple; the Elgar theme park that is Malvern; and Hemel Hempstead, the unacknowledged capital city (sorry, St Albans) of that erstwhile media desert, West Hertfordshire.
This is not just an exercise in quaintness and quirkiness, though. All of the UK's major conurbations are there among the potential candidates, as are a host of middleweight contenders - places perhaps best known for their football teams or racecourses. Places such as Ayr, Southampton and York.
There will continue to be those, though, who wonder at the point of it all. In writing pieces about local TV in this country, it is a time- honoured tradition to make gently mocking references, not, as one might expect, to The League Of Gentlemen and its elegiac homage to the joys of local retail opportunities in the UK, but instead to name-check Wayne's World, a knockabout comedy in which Mike Myers and Dana Carvey play local TV show hosts.
What's not so often mentioned is that the film was released in 1992, when the first websites were launched in the US. If local TV was ridiculous back then, just how sad is it now? Twenty years is, after all, a terribly long time in television. It's just about possible to argue that the UK missed this particular bus by almost exactly a generation.
1. Ofcom has published a list of 65 towns that it believes have the potential to attract bidders for local TV licences. After a consultation period involving potential bidders and relevant local interests in the named towns, the list will be narrowed down to 20 possible contenders by the end of the year.
2. Hunt's original blueprint envisaged that local stations would operate as affiliates (US network-style) within a national structure that could have provided some syndicated programming (and associated nationally derived advertising revenues). That blueprint was scrapped back in July, but Ofcom and the Department of Culture, Media and Sport will still allow interested parties to bid for more than one licence.
3. A chunk (no more than £40 million in total) of BBC licence-fee money will be available to cover some start-up costs and will help with funding for the first three years of each licence - but, longer term, services are expected to sustain themselves by attracting advertising revenues. There will be no advertising minutage restrictions; and in the absence of audience data, licence-holders will be able to devise their own trading currencies.
WHAT IT MEANS FOR ...
ADVERTISERS
- National advertisers don't tend to be madly keen on local media opportunities unless they are aggregated up into virtual national channels. However, Ofcom and Hunt were dissuaded from creating the sort of local TV structure that would make that a relatively easy option.
- The best advertising prospects for local TV will be local retailers, entertainment venues and tourist attractions. Not to mention freelance workers in the leisure industry.
REGIONAL MEDIA OWNERS
- Many observers, not least the regional newspaper publishers that have researched this issue many times down the years, point out that consumer demand for "hyper-local" television news is unproven. Anyone familiar, say, with the sorts of local news programmes served up by stations in the ITV network will know what a painful business it can be both for the viewer and the broadcaster.
- Local TV has huge implications for local publishers, however - they may feel duty-bound to protect their turf by funding (either directly or indirectly) local TV bids, even if they don't believe that local TV is a viable business proposition.
- So this could add up to a costly headache at a terribly difficult time for the industry. Let's hope the publishers have deep pockets. Otherwise, Hunt might go down in history as the man who weakened rather than strengthened the cause of local media in this country.
- At which point someone somewhere might have the temerity to accuse him of an act of political narcissism in pursuit of a media idea that's considerably less interesting than hospital radio.