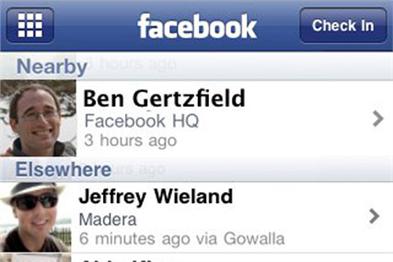 Awareness

Britain's young people are known for their attachment to social networks and mobile phones, so it's surprising that only 48% of the 1,000 11-18 year-olds quizzed in our Direct to Youth Digital Omnibus have heard of Facebook Places, Foursquare, Gowalla or SCVNGR.
When discussing these social location services it might be considered sensible to remove Gowalla and SCVNGR from the debate entirely since only 3% and 2% of those questioned had heard of them, respectively.
Places garnered the highest level of awareness with 48% aware of it compared to 27% for Foursquare.
In all cases awareness increased gradually with age, with 60% of 17-18 year-olds being aware of at least one of the services compared with 53% of 15-16 year-olds and 47% of 11-14 year-olds.
Have you heard of any of the following?
Service
Score
Facebook Places
444
Foursquare
275
Gowalla
33
SCVNGR
19
None of the above
478
Source: Dubit
Do you use location services?
Overall, use of location-based applications is low, with 67% of those aware of the services not using any of them. The reminder of the survey only questioned respondents who were aware of the location services.
Although there is only a 21% difference of awareness between Places and Foursquare, Places is used by six times as many young people, with only 5% of the sample being Foursquare players.
Despite awareness increasing with age, usage was highest with 15-16 year-olds, peaking at 34% for Places and 7% for Foursquare.
Boys were most engaged across all applications, particularly with Places, which saw a 16% difference between genders.
Do you use any of the following to check-in at locations?
Service
Percentage
Facebook Places
30
Foursquare
5
Gowalla
1
SCVNGR
0
None of the above
67
Source: Dubit
Why do you check-in with your phone?


From the sample that used location services, the two most popular reasons for doing so were that users found them fun and friends knew where they were.
The term 'fun' can be regarded as rather ambiguous, so we continued to ask which elements of the service users found attractive.
Surprisingly the opportunity to get points and become the mayor of a location is only popular with 12% of users.
An equal percentage said they are attracted to the services because they can get tips on places to go or things to do.
When Facebook launched Places it was derided by Foursquare creator Dennis Crowley as being 'boring' and 'unexciting'.
He picked on the fact that the gamification elements that he believes made Foursquare such a success were missing from Facebook's service.
Our study shows that these elements are not integral to teens' enjoyment, instead they cite 'So my friends know where I am' and 'To find out where my friends are' as two of the most important factors, with 45% and 30% of votes, respectively, while "Showing off" was chosen by 24%.
Unfortunately for Foursquare, UK teens are picking their location service based on its install base and whether their friends are on it - a battle they are unlikely to win.
Due to the services' voucher and discount offerings still being in their infancy, 'to save money' wasn't included in the survey.
Based on previous research undertaken by Dubit into QR codes there is good reason to suggest that Facebook's Deals and Foursquare's promotion of vendor offers could be a catalyst for growth.
Scores on the doors


Despite Facebook's relative dominance of the check-in business, the social giant shouldn't be too excited as its users are far from in love with Places.
We asked respondents to score each service out of five, with the highest score indicating they loved the service and the lower end showing they didn't see the point.
Across all four services the consensus was that respondents neither loved them nor saw them completely pointless.
Places got an average score of 2.8; Foursquare 2.5; Gowalla 2.7, and SCVNGR 2.4. It is worth noting that the lower usage figures for Gowalla and SCVNGR resulted in the responses to this question coming from a much reduced base size.
Score the following out of five (if you use them)
Percentage
Service
1
2
3
4
5
Facebook Places
18
22
34
20
7
Foursquare
30
17
36
11
6
Source: Dubit
Reasons against


The most popular response as to why respondents have stayed away from location services is that they 'Didn't see the point'.
This blunt response could be seen as basic, but it does prove that the biggest barrier for the likes of Foursquare is that much of the audience still doesn't see a reason for using them.
It could be that the perceived benefits haven't been communicated correctly or that the benefits assumed by Facebook and Foursquare don't marry up with what the consumers want.
Forty five percent of location service avoiders said they worried that sharing their location wasn't safe.
This statistic barely fluctuated with age but it was a bigger worry for girls over boys, with 11-14 year-old girls being the most concerned (55%).
Twenty eight percent of the sample gave their reason for not using location services as believing their phone couldn't run the software.
Although this is expected at the younger end of the spectrum, there was little variance across all three age groups with 15-16 year-olds having the highest percentage at 33%.
If you don't use any of the services, why not?
Percentage
Reason
Total
Boys
Girls
11-14
15-16
17-18
I don't see the point
58
58
57
56
55
61
Not safe
45
37
52
43
46
35
Application doesn't run on my phone
28
30
26
25
33
23
My friends don't do it
16
17
14
16
15
16
Source: Dubit
It isn't just Facebook and Foursquare that have a role in promoting location based social networking; brands have a responsibility too.
Marketers need to not only communicate the benefits but also ensure that these benefits are desired by the consumer.
At the same time, safety is paramount and consumers need to be educated in how to be safe on these new social networks. Brands must be sure that they are not encouraging consumers to use services that could leave them at risk.
Peter Robinson, head of research at Dubit