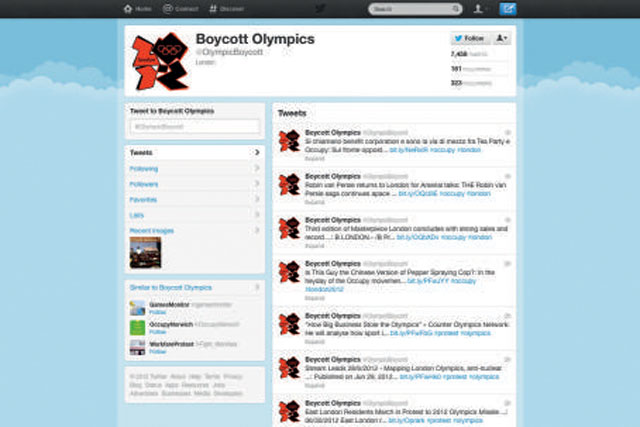 Marketing revealed in March that Locog was in talks with Twitter to ensure that the microblogging platform would not be used for ambush marketing during London 2012.
According to sources familiar with the matter, these negotiations are ongoing, as the two work out 'line by line' how to police social-media marketing and protect the Olympics' official sponsors.
One source said 'confusion' remains among digital-media-owners about the guidelines and what is expected from the Games organisers.
It is understood that non-sponsors will not be allowed to buy promoted Twitter ads based on Games-related tags such as #London2012.
Twitter and the Games organisers co-operated on the issue in May, when the site temporarily suspended a 'SpaceJackers' protest account that violated the official Olympics logo, following a complaint from Locog. However, following negotiations it was restored.
As Marketing went to press, further protest accounts were using a version of the logo.
A Twitter spokeswoman did not comment directly on the story, but said in a statement: 'We take intellectual property seriously and have a team that investigates reports by trademark owners of infringement.'
She added that the IOC and Locog will be able to 'protect their marks' on Twitter under the policy 'available to all brand-owners'.