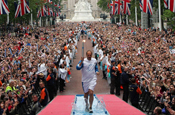 LOCOG is looking for an integrated advertising and marketing services agency to assist it with its above- and below-the-line communications in the run-up to the Games in 2012.

The appointed agency will develop the creative identity and look for the Games and work on ticket marketing.

It will work on LOCOG's key initiatives and events, which sets out to inspire change through the Games, over the next three-and-a-half years.

London 2012's commercial director, Chris Townsend, and head of brand and marketing, Amanda Jennings, are heading the pitch.

Chime Communications handled the ad account for the handover from Beijing to London, but this strategic project was always on fixed-term contact.

Townsend said: "The next three-and-a-half years will see LOCOG's marketing and communications come to the fore.

"In that time we will launch our sport pictograms, reveal our mascots, retail stores and the online shop will be designed, our Games will have a distinctive look and feel, digital platforms will be used to engage young people, tickets will go on sale, the torch relay will take place and the Cultural Olympiad will build momentum.

"It is important that people feel part of all this and can contribute – and our marketing campaigns will be central to this."

Interested agencies must register their interest on London 2012's procurement process, the CompeteFor service, before 22 January.