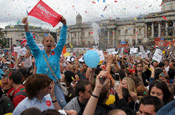 The pitch is being handled by the AAR and an appointment is scheduled for the end of January 2008. Work will begin immediately afterwards.
The brief is strategic and creative, and is not limited to one particular agency or advertising sector.

Shortlisted agencies will be asked to devise a communications plan to promote the 2012 Olympics worldwide, particularly in the lead-up to the Beijing Games in 2008.

It is expected that the agency that produces the winning communications plan will also be asked to execute the creative, although this has not yet been confirmed.

The successful agency or agencies will work with Jackie Brock-Doyle, the director of communications, and Chris Townsend, the commercial director of London 2012.

London's Olympiad officially begins when the flag is handed to the Mayor of London at the closing ceremony of the 2008 Olympics.

The search comes as LOCOG finalises its commercial relationships with sponsors and partners. This week, it named Deloitte as its professional services sponsor.

Three top-tier partners for 2012 are already in place. They are: Lloyds TSB, the official banking and insurance partner; EDF Energy, the official utility services partner, and Adidas, the official sportswear partner.

In November, it emerged that the company was looking to create a digital roster to handle online, mobile, design and back-end development.