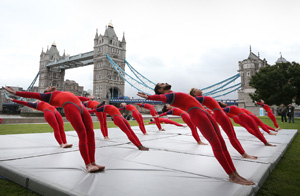 Among those taking part were 2.9 million people who rang bells for Martin Creed's 'All the Bells' on Friday 27 July. Bells all over the country – including Big Ben – were rung as quickly and as loudly as possible for three minutes to herald the start of the London 2012 Olympic Games. The event was broadcast live by the BBC to an estimated audience of more than 12 million people.

Other festival events have included the BMW Art Drive, London's Hatwalk, Jeremy Deller's Sacrilege, The Serpentine Gallery Pavilion 201, appearences by New York acrobats Streb, Yoko Ono's Imagine Peace, and The Olympic Journey: The Story of the Games at the Royal Opera House.

Ruth Mackenzie, director of London 2012 Festival and the Cultural Olympiad, said: "We are delighted that so many people across the UK have taken part and have enjoyed London 2012 Festival events in such huge numbers. So far, over 9 million free opportunities have been taken up to get involved and we are really happy to have a further 5 million free opportunities still to come, and many more exciting events to attract audiences."

The 12-week UK-wide London 2012 Festival started on 21 June and features more than 25,000 artists in more than 12,000 events and performances. Events will take place until the final day of the London 2012 Paralympic Games on 9 September.
To read more about the London 2012 Festival and get a full review of the industry and its role in the Olympic Games make sure you subscribe to The Guide - An Olympic Legacy, which is available at the end of the year.