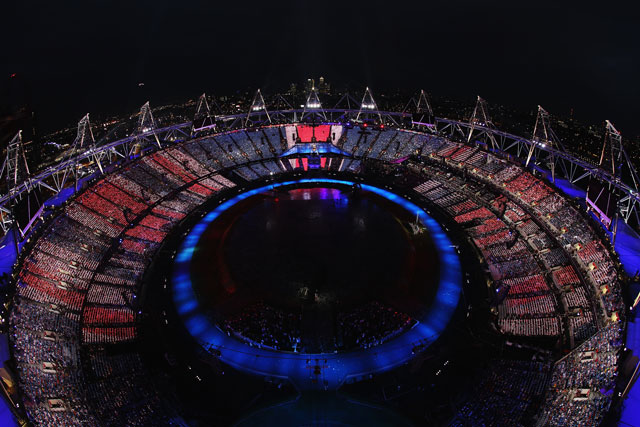 The audience for the BBC's four-hour long coverage averaged 22.4 million across BBC One and BBC One HD, making it the most watched television programme this year, ahead of the England football team playing Italy in Euro 2012 and the Queen's Diamond Jubilee.

It was a feat of endurance from the nation, with 23.7 million watching the 9pm start as Bradley Wiggins rang the stadium bell and 19.2 million still tuned in as Sir Paul McCartney closed with 'Hey Jude' at 12.45am.

The peak of 26.9 million viewers came at 9.50pm to 9.55pm as Mr Bean delivered a comic take on famous sporting theme 'Chariots of Fire', playing with the London Symphony Orchestra conducted by Simon Rattle.

Global audience estimates vary wildly and it is difficult to say with certainty how many people tuned in live.

Relative time zones have a big impact on which countries are likely to be able and willing to watch the ceremony.

For example, the average British television audience over the last five previous Olympic Games Opening Ceremonies has been as low as 1.1 million for Atlanta 1996, given it took place in the early hours of a Saturday morning.

Overseas audiences for last night's ceremony would have been hampered by the start times of between 1pm and 4pm on a Friday afternoon for the United States and between 4am and 6am for China and Australia.

Europeans would have found it easier – as evidenced by the 11.3 million Brits who tuned in for Barcelona 1992 (the highest over the past five Games) and 8.6 million for Athens 2004.

In domestic viewing history the Opening Ceremony's 22.3 million average audience is believed to put it among the 20 most watched programmes ever.

The highest ever audience was 32.3 million people for the England football team's 1966 World Cup win, while last year's royal wedding of Prince William and Kate Middleton averaged just over 26 million across all channels.