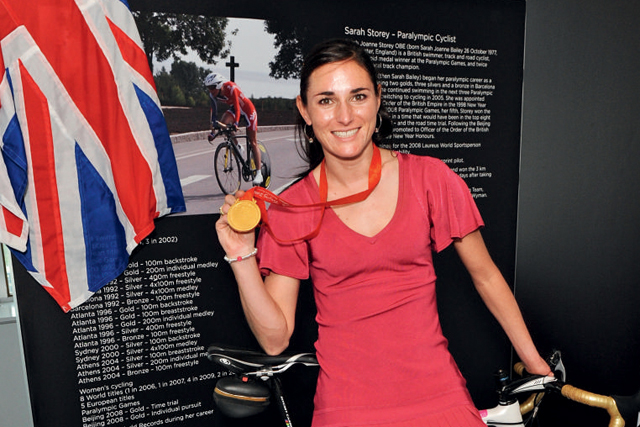 For someone who was bullied at school and describes herself as having 'wet hair and bad skin', Paralympic and aspiring Olympian cyclist Sarah Storey cannot hide her surprise and excitement at appearing in the hallowed pages of Vogue.
Mind you, her role as the official face for Links of London's London 2012 Olympic range of jewellery has enabled her to enjoy a wealth of experiences outside her life as an athlete, with its gruelling six-day-a-week training programme.
As excitement around London 2012 builds, an increasing number of athletes are taking centre stage for brands. Moreover, the question on every marketing director's lips, whether their brand is an official sponsor or not, is: 'what are we going to do about the Olympics?'
Tying up with athletes in the run-up to the Games is a simple solution for many brands. The one constraint hindering them doing so is that for a period 'shortly before and during' the Games, athletes are not allowed to appear in advertisements for non-Olympic sponsors.
Sophie Barrett, press manager at Links of London, is overseeing its official jewellery range and Storey's work as one of its Olympic ambassadors. She says that working with athletes has been different from Links' usual campaigns, which typically involve models or celebrities.
'It has been a hugely refreshing project,' she enthuses, adding that from a company point of view, it has opened up the brand to an interesting dialogue with the sporting community.
Brand fit
Deciding which Olympic athlete to partner can be a daunting prospect for brands, particularly those with no heritage in sports.
Tim Crow, chief executive at sponsorship consultancy Synergy, divides Olympians and aspiring Olympians into three categories.
First are the well-known athletes, such as Usain Bolt; second are those like Jessica Ennis, about whom the public will have relatively low awareness until the Games begin; and third are the 'local heroes', who are well-known only in their home towns but might be widely known by the 2016 Games.
The trick for brands, according to Crow, is to identify athletes who fall into the second category.
More brands are turning to specialist agencies for advice, but can they really help predict who will be the next Rebecca Adlington?
While sports sponsorship agencies report that London 2012 is the most successful Games commercially for Team GB, there is no shortage of athletes who rely heavily on support from sponsors.
Neil Hopkins, director of M&C Saatchi Sport and Entertainment, says that in niche sports, sponsorship helps athletes who couldn't compete on a level playing field otherwise. 'For a water polo athlete who has to go to their local swimming pool at 4am and train, a sponsor means they could have a better chance,' he adds.
Crow says that 20 of the 26 Olympic sports are essentially amateur. 'There are several minority sports and the support that brands can give these athletes is very significant, as often they aren't getting paid.'
These deals are in a completely different league from the likes of Coca-Cola's multimillion-pound tie-up with footballer Wayne Rooney.
'It is all about finding people who fit with your brand and are better at events,' adds Crow. Regardless of the athletes' Games' performance, brands can still win. After all, those that are seen to genuinely back Britain's Olympic hopefuls may find their own star rising alongside that of Team GB.
INSIDE VIEW - SARAH STOREY, PARALYMPIC ATHLETE AND ASPIRING OLYMPIAN
Sarah Storey aims to become the first British athlete to compete in both the Olympic and Paralympic Games in 2012. She began her Paralympic career as a swimmer, winning five gold medals, before switching to cycling in 2005 and going on to win two Paralympic gold medals in Beijing. She is an Olympic ambassador for brands including Links of London and Scottish Widows.
- How did you become one of the faces of Links of London?
Links invited me to the store in 2009. My family had a small business in jewellery, so I have always known about it.
I mentioned I was going to the Glamour awards and Links offered to lend me some jewellery. So when they asked me to be the face of the brand I was delighted. It is a two-year deal.
- How do you balance your rigorous training schedule with sponsors' commercial demands?
I generally train six days a week, and weekends are great, as there are fewer lorries on the road. I have a Word document that I circulate every month with my timetable on it. Any association will only work if the training comes first. Cycling is more flexible, as I have use of the gym at One Aldwych Hotel, and I know I can get the right food there too.
- What advice would you give to brands looking to sign up an Olympic ambassador?
You have to have an open mind about ambassadors. Athletes can never work in the same way as models. It won't work if (brands) try to treat the relationship the same way as they would with a model. Once a brand realises training must come first and foremost, then it's easier. Having an open mind extends to knowing that a lot of the decisions are out of our control. For example, I might be sent to Florida, as I need warm weather to train. Our programmes ebb and flow, and when a brand part-ners an athlete, it needs to know that an athlete does not have a nine-to-five job. It might be time grabbed between sessions at the training ground.
- What are you most looking forward to at the Games?
Lord Coe has set out a concept for the Olympic and Paralympic games, 'One games, one city and one success', and here in the UK, we lead the way with innovation. If you want to sponsor the Olympics, you also sponsor the Paralympics. We athletes need to step outside the bubble of the Games and look and see the excitement and vibrancy of the city. That's what I am really looking forward to.
WHAT YOU SAID
We asked @MarketingUK followers to name the greatest sports/brand partnerships of all time.
@shib88 Puma and Usain Bolt. Great for the brand and the business.
@Takski Tak Nike and Michael Jordan. A partnership still going strong now that started in the mid-80s.
@StartLicensing Denis Compton and Brylcreem. I could imagine it still working today. It was a classic of its kind.
@joquint How about Puma and Linford Christie for the infamous branded contacts at the Atlanta Olympics. Ambush marketing brilliance.
@mattproud1 Bernie Ecclestone and Hublot watches. Great use of a bad situation. Controversial and excellent exposure.
@Pierre Longpre Bill Cosby and JELL-O.
INSIDE VIEW - KERI-ANNE PAYNE, OLYMPIC SWIMMER
Swimmer Keri-Anne Payne won silver in the 10km open water swim event at the 2008 Olympics and also won a world title in the same event in 2009, defeating Russia's Larisa Lichenko, who had denied her the gold medal in Beijing. More recently, she won the 1600-metre British Gas Great Salford Swim on 15 May. She is an Olympic ambassador for brands such as British Gas and Links of London.
- How did your association with British Gas come about?
British Gas is sponsoring British swimming, so the link was already there. I was also attracted by the fact that it is a British company.
- Is there more interest from sponsors because the Games are being held in London?
There is always going to be more interest from UK sponsors when it is on home turf. It has been a big help, the Games being in London, and there are more companies looking to support the athletes.
- Do you feel more pressure with the Games being held on home ground?
There will always be pressure on us at home, but at the end of the day I can only control my performance. I haven't even made the team yet.
- What advice would you give to brands looking to tie-up with Olympic athletes in sponsorship deals?
The only advice I can give is that a brand must make sure it gets the right connection with the athlete, that they share the same morals and beliefs. There are lots of links between businesses and high-performance athletes in terms of attitude and approach, such as the competitive instinct that we both share.