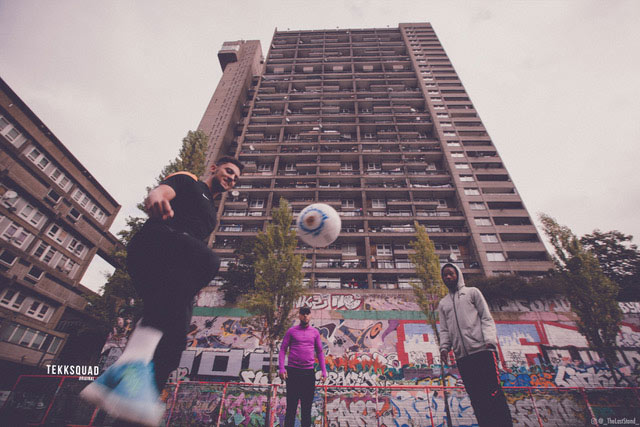 Director Gundeep Anand is introducing young people across London to careers in the creative industry through an unlikely method: a street football tournament.
The goal of the tournament, called The Last Stand, is to unite communities and break down social, cultural and religious barriers through sport. Anand launched The Last Stand in November without funding and is hosting the second event on 15 June.
This time he has the support of production company Rattling Stick and post house The Mill. Post house Freefolk will also project The Last Stand's content in its office window on Wardour Street.
After making a documentary about last year's tournament, Anand and his partners have recruited six emerging directors to make documentaries about each of the six teams competing this month. He has also directed promo videos for each team, with input from some of the participating teenagers, who range in age from 16 to 18.
Up-and-coming music artists from local communities are also recording new tracks for the team promos and music videos.
Anand said some of the youth have been inspired to go into directing or other creative fields after making content for the tournament and seeing the creative process behind it. He is talking to Rattling Stick about setting up placements for them at agencies or production companies.
"The whole core of this is to say, why not you? Why can't you do it?" he said.
Anand is a 28-year-old director from West London who previously worked at Publicis. He got the idea for The Last Stand after coaching football on estates in Shepherd's Bush and Ladbroke Grove.

Anand (front row, center)
"These kids don't believe they can do much with their life. Their imaginations are limited," he said. "I thought if I created something and said this is what I dreamed of and it's a reality, I could show that what you imagine can happen."
The tournament will take place in London at a location they are keeping secret for now. The winner will get an UberX to Nando's for dinner, while the losing team will go home with Chicken Cottage in an UberPool.
Anand said his vision of bringing people together across London postcodes is particularly timely in an age of Brexit and Donald Trump.
"People don't come together very often now for the right reasons, but by coming together we can overcome all these issues and challenges," he said.
He also shared advice for other aspiring creatives with big dreams: "Just do it. Everyone's waiting for the perfect time, but the perfect time is now."