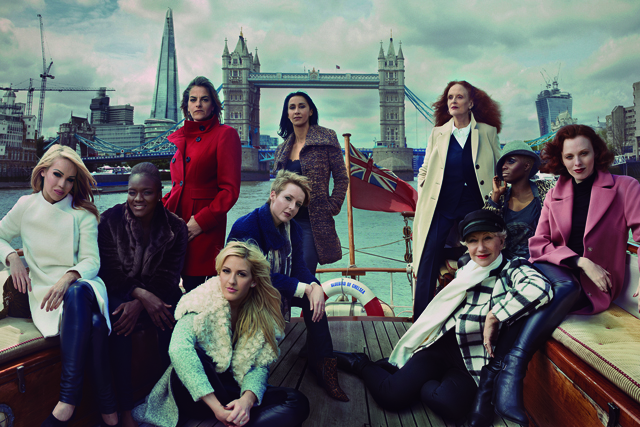 The brand's 'Best of British' womenswear AW14 collection, revealed this weekend, enjoyed 32% positive social media mentions, compared to 7% and 25% respectively for British fashion powerhouses Burberry and Topshop.
Of the three, Burberry had 62% of all social media mentions, although these were mostly concerned with One Direction pop star Harry Styles and rapper Tinie Tempah, who were both at the show. Similarly, the majority of Topshop's mentions involved TV personality and model Kendall Jenner, model Kate Moss and US Vogue editor Anna Wintour.
M&S's mentions were fewer – only 3% of the three companies' total– but more relevant to the collection, with "Marks Spencer", "love", "SS14 collection" and "check" the most common words in the conversation.
"The days where the front row at the catwalk is reserved for VIP editors of the glossy mags are long gone, now it's all about what people are saying about your brand online, extending the size of your 'front row'," commented Merinda Peppard, social media expert at HootSuite.
"Top social performing brands like Burberry, Topshop and Marks & Spencer's are great examples of how reputation for creative and innovative style is now placed firmly in the hands of social networkers and the designers that can create the biggest online buzz."
The brand's 'Best of British' range on display at London Fashion Week was designed in-house by the M&S design team, based at the newly opened M&S Studio in Shoreditch.
M&S says the range is a "true celebration of British craftsmanship and creativity" and a "modern exploration of heritage sensibility".
The full collection is manufactured in Britain with selected fabrics sourced from British suppliers, including knitwear from Scotland, outerwear from Manchester and footwear from Northamptonshire.
M&S has been investing heavily in its social media strategy of late, notably with a celebrity-studded Christmas campaign that reached out to shoppers through Facebook and Twitter to name the dog featured in the TV ad.