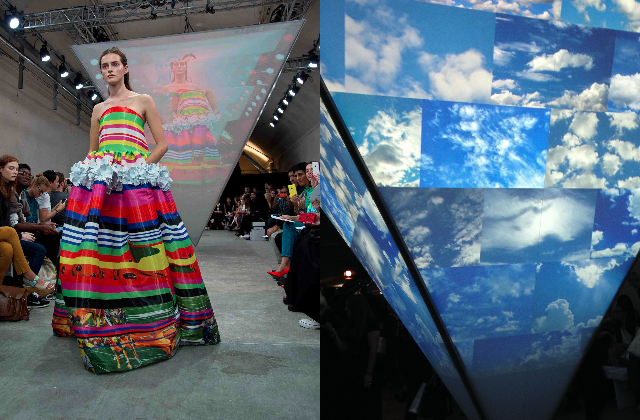 This is Microsoft Brand Lab's second collaboration with the fashion duo, who last year premiered a skirt constructed entirely out of Lumia smartphones.
Technology company Kin also came on board to create a custom app. Marketing spoke with Microsoft Brand Lab's boss Costas Syrmos, who said the installation gave the viewer the experience of being inside the actual fabric.
He said: "There are four Lumia 830s positioned within the catwalk show, and those devices are giving a live feed to a pyramid installation in the centre of the room.
"Kin created a custom app for Windows Phone 8.1 which enables the device to capture lots of images in short time that turns into a stop-frame animation video.
"The collection is all about colours and distortion – that's what we wanted to bring to life."
Microsoft Brand Lab was formerly called Nokia Brand Lab, prior to Nokia's acquisition by Microsoft earlier this year. Future lab projects are likely to take a different direction, according to Syrmos.
He said: "The organisation is changing, our new direction is all about productivity and the cloud, so new projects will centre about that.
"That's not just in our work lives, but everyday lives. How do you make things happen? This fashion show is a good example of putting together a show experience using Microsoft technology."
Brand: Fyodor Golan
Agency: Microsoft Brand Lab/Kin Design