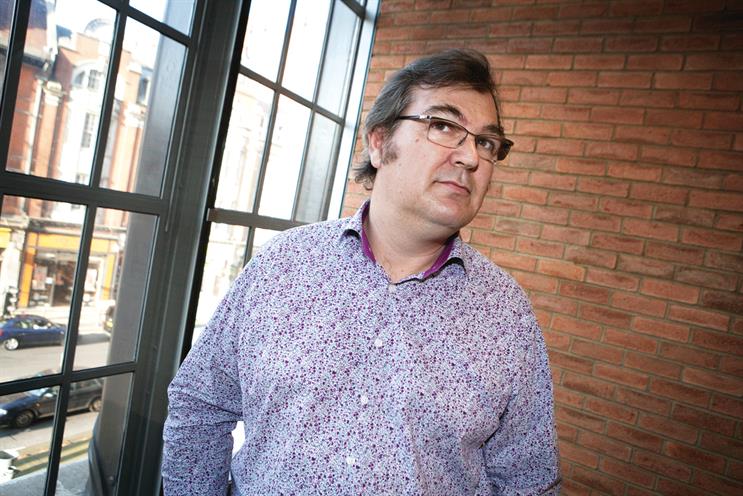 London Live is still less than five months old, but already the vultures are circling.
The loss of the editorial director, Stefano Hatfield, in its first month was followed weeks later by the surprise news that the chief executive, Andy Mullins, is leaving the business.
Now, after a series of programmes broadcast to an audience measured by Barb at zero, the UK's flagship local TV station has applied to Ofcom to drastically cut its commitment to local content.
For many, London Live, the flag-bearer of Jeremy Hunt's vision for local TV, is giving every indication of being in its death throes.
But such a bleak assessment is oversimplified and "plain wrong", according to its chief operating officer, Tim Kirkman, who says the owners, Alexander and Evgeny Lebedev, remain committed.
"The Lebedevs have not put timelines on it, but they have been very clear that they don't set up a business to shut it down," Kirkman says.
"We've been going for four months – bits of it are working, bits of it aren't. My job is to make the bits that aren't working work."
A shift towards The Standard's heartland
One major change taking place with little fanfare across London Live is a repositioning away from the much-hyped "youth market" to an older audience – more akin to the 25- to 44-year-old core readership of its sibling, the London Evening Standard.
"We started younger, and I think we were wrong to do that," Kirkman concedes. "We tried to activate a young audience with a relatively old asset in the Evening Standard – we've moved away from that and they're becoming much more in line."
So out goes the YouTube-originated comedy All About The McKenzies – one of London Live's first commissions and lauded as a trailblazer for the different voices the channel could help unearth.
Written, directed and produced by the 27-year-old Samuell Benta, who had been motivated by the lack of positive black role models in the media, it certainly bolstered the station's credentials for supporting emerging talent.
For Susana Giner, the director of Youth Media Agency, the change of direction is "disappointing".
"I think this is a real missed opportunity," she points out. "There seemed to be some confusion with commissioning from the beginning. Some shows were always too old for its stated youth market. Maybe it needed to go all in to really engage with the younger audiences."
Losses mount
But the prospect of becoming more niche and taking more risks is not likely to chime with the Lebedevs, who reported losses of £1.25 million for the first 13 months leading up to London Live's launch on 31 March.
And losses are set to increase this year. The initial team of nine who helped get London Live over the starting line has since ballooned to 67, and commissioning costs for old series such as Coupling, NY-LON and Peep Show continue to escalate. Kirkman confirms that "the bill will rise significantly".
So the focus is on producing more mainstream programming attractive to advertisers. As a statement of intent, look no further than the new commission Place Invaders, which airs in the autumn.
Jonathan Boseley, London Live's director of programming, calls the 20-part property series, to be fronted by the BBC Radio 1Xtra DJ Charlie Sloth, the "first major play in the Evening Standard's editorial space".
The showcasing of the capital's property market promises to be a TV first but is well-trodden ground for the Evening Standard, where it is a commercial tent pole every Wednesday. London Live is hoping to tap into the same lucrative vein.
"The amount of money I'm getting through from straight 30-second spots to media agencies is less than I was hoping for," Kirkman admits, "and it's less than I was hoping for because of the issues that sit around Barb."
Hampered by Barb
From the outset, leaders at London Live have felt hamstrung by the audience system provided by Barb. Its method of using a panel of 855 people to represent the entire London population paves the way for huge variations for the smaller stations.
Kirkman flagged his concerns about Barb's sample sizes ahead of launch but, if anything, the situation has proved to be more problematic than feared.
Noting the backlash every time London Live is tracked with the "dreaded zero rating", Kirkman says 40 per cent of all multichannel shows regularly record zero ratings in London.
The former Carat director still admits to being a "slave to the TRPs", which detail the overnight viewing figures, but holds little hope that the situation will improve any time soon.
"We've had conversations with Barb, [its stakeholders] Sky, BBC and ITV, and it won't make any difference at all," Kirkman says. "It's cost-prohibitive to change the set-up. We're fishing in a pond which is governed by Barb."
He says the request to reduce the station's obligations to local content in primetime from three hours to just one is quite simple: "I need to get bigger audience ratings in my peak time, and there is a bigger interest in national."
New revenue streams
Other plans to unlock more adspend include developing long-form branded content opportunities (typified by recent deals with Westfield and Topman) and creating a local direct-to-client sales force.
The station is in the process of recruiting a dedicated local team to be led by the head of TV, Kavita Veeramah Collins. Inspiration comes from the success of local radio broadcasters such as Global, where local ad sales generate more than £70 million, accounting for about 20 per cent of total revenues.
But if London Live is to attract local businesses, it will have to overcome the challenges of producing good TV on tight budgets.
Another issue for the sales operation will be the logistics of having enough people to go direct to clients – there is a reason why the sizeable Sky still partnered with Johnston Press earlier this summer for its regional sales.
Building on successes
Not everything at London Live needs to be reimagined. London Go, its informative one-stop shop covering all things cultural, is lively local evening TV at its best.
The breakfast show, Wake Up London, is developing too, although Kirkman is the first to admit more needs to be done to build the weather and travel sections.
A standout success has been Food Junkies, developed by Jamie Oliver's Fresh One Productions.
Fast-paced, different and high-volume, it is described by Boseley as "the show that you wish for".
The series has also helped attract multimedia sponsorship from Loyd Grossman sauces. Kirkman holds the show up as a great example of businesses that would never have come to ESI Media before London Live.
Off the record, one leader within the group seemed to echo the thoughts of many when he says: "It was a chaotic start - I think we tried to be too many things to too many people - but I feel London Live is starting to find its direction.
"Our challenge internally is to make sure we communicate better across the group to ensure more of the Standard's values are being fed into London Live."
Going forward, Kirkman, who was London Live's first full-time employee after helping to draft its winning bid for the London licence in 2011, is under no illusions.
"This is a challenging space, but we've got great enthusiasm from the guys," he says. "If, in nine months' time, I can't prove to my shareholders that there's a sustainable business here, I'll hold my hands up."
London Live: what's on show
Place Invaders
London Live has ordered its first local entertainment commission – a 20-part series exploring the capital's booming property market. Place Invaders, comprising 60-minute episodes and produced by Warner Bros Television Productions UK's Ricochet, will be fronted by the BBC Radio 1Xtra DJ Charlie Sloth. Sloth, an aspiring property developer, will take viewers around a selection of London's multimillion-pound properties and offer insight into the market.
Not The One Show
In terms of audience highs, the flagship Not The One Show enjoyed a 1.4 per cent share of all 25- to 44-year-olds when Ruby Wax made a guest appearance two weeks ago. The 7pm show placed London Live among the top 20 most-watched channels in London. "Barb massively underrepresents us," Tim Kirkman, the chief operating officer, says. "Despite that, the audience we're delivering is very good. We're up there with the Comedy Centrals, we're above the Discoverys, we're delivering a real audience." YouGov research indicates the channel reaches up to 1.3 million, while Barb suggests a 0.3 per cent share. Meanwhile, London Live online is attracting around 24,000 people – a third of whom regularly view its video content.
Barb responds to criticisms
Barb stresses its panel is carefully and representatively selected and maintained on a UK network and regional geography. In the past year, the body has started to measure viewing on desktop and laptop computers. The chief executive, Justin Sampson (pictured), says Barb recognises the challenge of measuring audiences for stations of all sizes, and this is one of the dynamics of Project Dovetail, which fuses new data sources with panel outputs. Sampson says: "We plan to use other data sources such as web-server data and, hopefully, the return-path data from set-top boxes. By doing this, we will deliver more robust measurement of stations such as London Live."