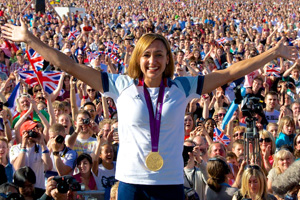 The Hyde Park site pulled in well over 1m people with its offering of free sport activities and live music for the Olympics as well as ticketed concerts for the opening and closing ceremonies.
The smaller site at Victoria Park recorded 193,000 visitors, while the Trafalgar Square site for the Paralympics had 243,000 guests.
John Probyn, chief operating officer of Live Nation, told Event there had been an element of guesswork to the estimation of one million visitors: "We had no idea what to expect. We had nothing to base it against because it had never been done at a previous Olympics on this scale, so we just said it wouldn't it be great if we had a million people? We were slightly overwhelmed."
He added: "What became apparent was that the sport was the driving factor, the more successful we were in sport, the more successful we were with the audience."
Welcoming more than one million to Hyde Park alone was not a problem as the site was set up for the ticketed concerts, Probyn said. "We knew how many were coming for the opening and closing ceremonies, so we had to gear up for those numbers anyway."
He added it was no surprise that Victoria Park's visitor figures were lower than Hyde Park. "By the sheer nature of what it is and where it is, Hyde Park is always going to get more people," he said. "In hindsight we could have put less activities into Victoria Park and we wouldn't have got any less or more people, but with Victoria Park you've got certain catchment area and we attracted those people, so we were pleased."
Were the London Live sites the biggest free event of the summer? Comment below and let us know.
For more in-depth and print-only features, showcases and interviews with world-leading brands, don't miss the next issue of Event magazine by subscribing here.