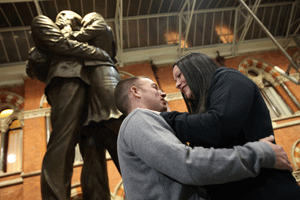 The hug event is one of 20 Guiness World Record events London and Partners aims to hold in the run up to the Olympic Games to ensure the capital is a record-breaking city in 2012.
Hopeful record-breakers gathered yesterday morning (19 Jan) at the Meeting Place landmark in St Pancras International station, to start the hugging record.
Eight hugging couples helped to beat the world record of 24 hours and 34 minutes by hugging for 24 hours and 44 minutes.
The record-breakers included Mayella Reynolds, founder of hugging group Random Huggers, Lorna Tulett, star of BBC's The Choir, and stand-up comedian, Sanderson Jones.
"I hugged my friend Mikey because I don't see him enough. We tried to break the world record for the biggest game of hide and seek last year but didn't make it, so it means everything to us to win this," said Jones.
Louise Toms, Guinness World Records added: "For any endurance, marathon record Guinness World Records requires a minimum duration of 24 hours, this is the benchmark for true endurance. While hugging for 24 hours may seem more accessible than cycling or singing for an entire day, every single marathon record takes incredible mental and physical strength, and commitment."
World Record London is a calendar of unique and one-off record-breaking events taking place around the capital from now until July 2012 celebrating the capital's most exciting attractions, venues, events and activities.
World record attempts to come include Biggest Easter Egg Hunt, the world's most expensive edible chocolate Easter egg and the world's longest photograph.
Londoners and visitors will be able to participate in some of the world records and will also be invited to join together and break their own records during the campaign by registering their records at Guinness World Records Challengers.
London & Partners CEO Gordon Innes said: "World Record London is a great way for us to warmly welcome visitors and celebrate all that is new and exciting about the capital in this very special year. With each record we are able to show the world just how much the city has to offer and highlight that there really has never been a better time to visit. The next six months will include so many highlights and what better way to start than with a hug from London."
To leave a comment, register and let us know your thoughts.