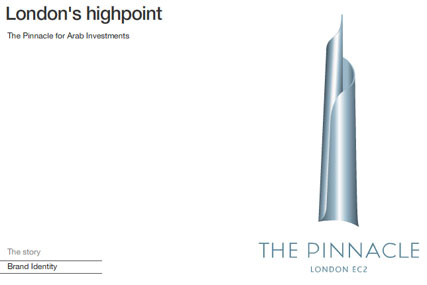 The City of London building, also known as The Bishopsgate Tower, will be 288m and 63-storeys high, and is due for completion in 2012.

It will become the second-tallest building in London after the 310m London Bridge Shard, also expected to open its doors in 2012.
The silver logo outlines the building's distinctive design, including its twisting roof. Rather than use previous names, such as The Bishopsgate Tower or The Helter-Skelter, the branding will simply refer to the building as The Pinnacle. Underneath the logo states 'London EC2'.
Chris Abel, founding partner at Totality, said: "Branding in the property sector is so important, as almost every project is marketed off plan before there's anything tangible to see. The Pinnacle right now is just a building site, so a strong identity was a must for the client."