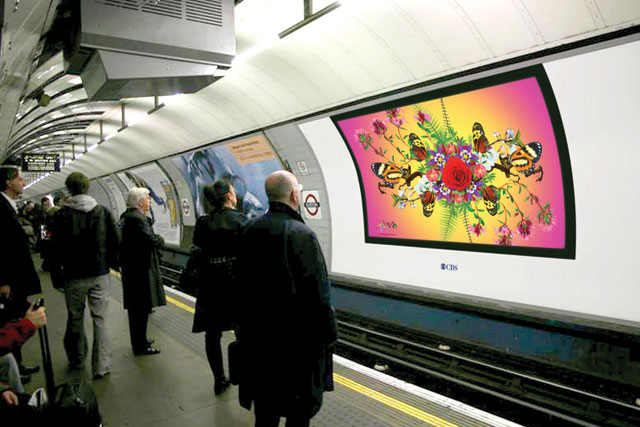 Oh, to be a media lawyer now that CBS Outdoor has confirmed its determination to take on City Hall (to use an appropriately American phrase). Because, according to some observers, there can only be one winner here.
If our learned friends play their cards right, this nice little earner could be spun out until the last trickles of a spoiled outdoor revenue stream have been drained into the coffers of the wine bars around the Inns of Court - and eventually (via London's least digital underground network) into the Thames.
And let's face it, as CBS Outdoor's dispute with Transport for London/London Underground enters its second stage, the whole business already seems terribly convoluted. But some observers reckon that the legal profession shouldn't get too excited just yet.
1. As the incumbent, CBS Outdoor was determined to retain the LU contract when the old one ran out in 2006. In a shoot-out with JCDecaux, CBS promised the earth - or rather a commitment to deliver £1 billion in revenue over the course of the contract, which was advertised to run until 2015.
2. According to the hype, this wasn't just the biggest media contract the world had ever seen but also a landmark moment in UK media industry history, transforming out-of-home into a cutting-edge medium. And London's transport system would be transformed into a thing of beauty.
3. The contract soon ran into problems, however, with CBS claiming it hadn't been able to install its digital display infrastructure as quickly as it had hoped. Revenues didn't flow as expected and CBS's US management invited its most experienced executives to carry the can. Its chief operating officer, Andrew Oldham, left in May 2008, its international chief executive, Clive Punter, departed in August 2009 and its sales boss, Tim Bleakley, followed a month later.
4. Their successors, the managing director, Mike Moran, and the commercial director, Mark Chippendale, also failed to go the distance, departing in June this year.
5. Back in March, CBS said it was suing TfL over the terms of the contract (notably, its revenue commitments), and TfL revealed that it would pursue a counter claim. Both suits are set for the High Court in March 2012.
6. CBS is preparing to issue a termination notice on 1 October, confirming its view that the initial contract is null and void. It claims that this is not to do with low ad revenue, but down to delays in Tube modernisation.
7. Richard Sauer, the executive vice-president, general counsel, of CBS Outdoor, pointed out that, since 2006, there have been significant changes to the way that LU is financed and managed: "Our expectation was that we would be allowed to complete the implementation of the network within an approximate two-year period ... this has not been the case and there is a clause in the contract designed to cover such an event."
8. Some observers believe TfL managers recognise the vali-dity of the CBS position and would have been happy to renegotiate the contract, but cannot due to political factors. The political hierarchy (ultimately, London's Mayor, Boris Johnson) can't be seen to be "going soft" on a prime commercial partner before the Olympics. According to this theory, TfL managers believe that now the business has "gone legal", politicians will seek to avoid a potential scandal and will be forced to sanction talks.
9. Another theory holds that CBS wants out of this contract because it is looking to sell or spin off its worldwide outdoor network. There are those who believe TfL managers understand this and have begun to talk to at least one alternative outdoor media owner.
10. Officially, TfL has reiterated the view that CBS Outdoor has no grounds to terminate the contract. Richard Parry, the director of strategy at LU, said: "We do not accept that CBS is entitled to issue a termination notice and will be making it clear to CBS that it must honour its obligations under the contract." LU maintains that the Tube upgrade work did not constitute an "adverse effect".
WHAT IT MEANS FOR ...
CBS OUTDOOR
- It's not hard to find seasoned observers who are highly critical, not so much of CBS Outdoor in the UK but of its international network management and, ultimately, its parent company, the CBS Corporation. This whole business seems to highlight dysfunctional aspects of the chain of command.
- Yes, they argue, the London Underground contract has been more problematical than anyone could have predicted. But, they add, if Clear Channel or JCDecaux had been running the contract, they would have faced the same problems and handled them differently.
- It may be that when the LU contract problems began to manifest themselves, CBS let some of the wrong people go. Since then, the UK management set-up has been very unsettled. Its new country director, Jason Cotterrell, promoted internally in June, is highly regarded - if untried - at the highest level.
THE OUTDOOR MEDIUM
- The case could be made that the outdoor medium's sales pitch as a progressive, modernising, digitally savvy medium has become seriously compromised.
- But outdoor specialists don't believe that to be the case. There's stability, talent and a plausible sense of progressive determination in evidence at Clear Channel, JCDecaux and, to a slightly lesser extent, Primesight.
- CBS issues aside, the market is continuing to invest in digital display technologies at an impressive rate - and advertisers thoroughly approve.