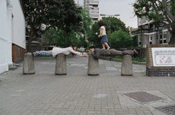 The "dangerous ground" campaign, created by CHI & Partners, features a 50-second spot, shot in Battersea and directed by Andy McLeod, that will run on TV and across cinemas nationwide.

The campaign aims to bring the concept of landmines closer to home. It features Londoners leaping across railings, clinging onto lampposts and jumping from fence-to fence in a bid to avoid stepping on the floor. It is supported by a website, www.dangerousground.org.

CHI & Partners is also planning a photography exhibition based on the theme of "Dangerous Ground" that will take place in London next year.