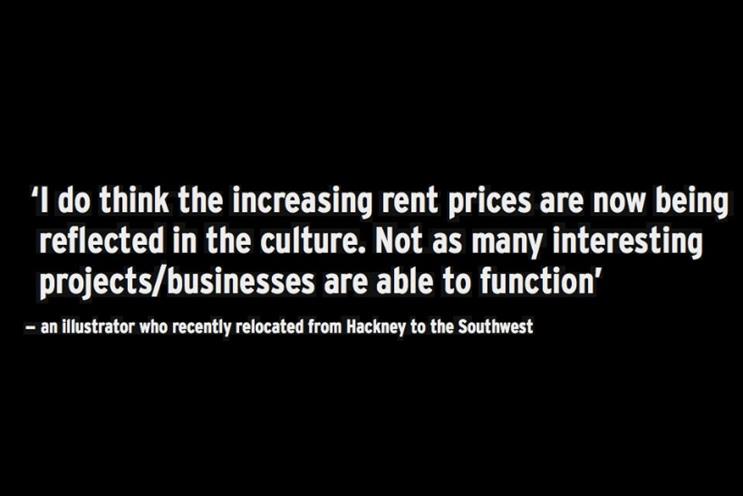 The project, led by Dr. Rebecca Ross, aims to convey London's sense of flux as residents struggle to pay rent, get a foot on the housing market or chase a better quality of life.
As part of the campaign, two digital billboards in Holborn and the City are displaying quotes from current or former Londoners who have had to move out of the city for financial reasons, or into the city to chase work.
One quote from a web developer moving from Southwark to Wales read: "I want a home that isn't in a basement and doesn't cost over 60% of my salary so I can start a family."
Central Saint Martins, in partnership with Outdoor Plus, has collected the quotes via a form on the London is Changing website. Anyone who has moved within the last year, or plans to in the next 12 months, can contribute their thoughts.
Public conversations
Ross told Marketing that the idea had stemmed from her own research into the Greater London Authority's public consultation process for the London Plan, the city's development blueprint. Unlike dry demographic data, the billboards starkly highlight how the city's housing shortage has a severe impact on lives.
She said: "My aim was really two-fold - to see if it was possible to use this medium to facilitate discussion around this issue. Secondly, and really importantly, it was to respond to the fact that [we are] not having good enough conversations about the housing crisis in London."
Grant Branfoot, sales director at Outdoor Plus, told Marketing all comments are fed through from the site, manually checked, then fed through to the billboards as an RSS feed.
The campaign will run for around 20 hours a day, bar rush hour, over the next two weeks. As an experimental campaign, it is being run at no cost to Central Saint Martins.
---
Recommended