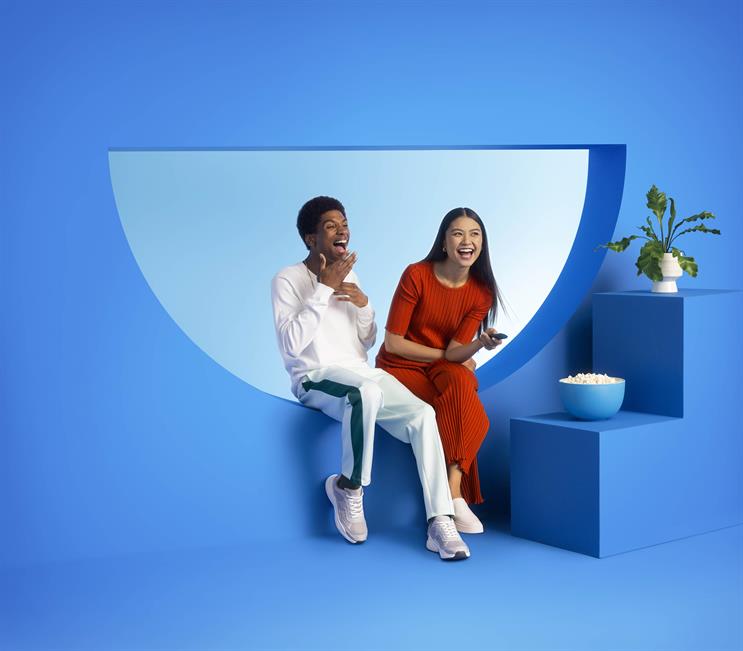 In an age of scrolling thumbs, fleeting attention, and second and third screens, it may seem like content creators are slimming down narratives to mere seconds to make a splash. But thanks to streaming TV (STV), we're also living in an era of entertainment and series sprees - with viewers having the ability, and willingness, to watch multiple hours or episodes when the content is attention-worthy. 
But how does a brand go from spectator to series creator? Long-form content, and specifically brand-funded programming (BFP), is an answer. With BFP, brands can create editorially-rich, viewer-first video programming that engages STV customers and aligns with their brand ethos. By being present in the places that matter with content that resonates, brands can start a cultural conversation, build audiences at pace, and forge a path to authentic, sustained engagement.
BFP on Amazon sits alongside Prime Video's premium suite of programming - from drama and reality to sport and documentary. But once in this key position, how do brands ensure their content is seen? 
Amazon Ads is the other piece of the puzzle. When powered by Amazon Ads, BFP can reach leaned-in Prime Video viewers at scale, anchoring a larger media strategy while raising brand awareness and building trust and good will. 
 
This is how it happens. 

Perfect partners 
"There's an abundance of content out there. And there's an abundance of streaming services," says Stephen Edwards, head of UK agency development at Amazon Ads. "We've seen an increasing appetite for brands wanting to see how they can tell their stories in the STV environment. Our role is to help them find and engage with audiences." And solving for this customer need was how BFP originated in the UK.
Amazon Ads' deep understanding of how brands can best connect with customers is underpinned by effective measurement frameworks and audience-driving practices which promote and support the viewership of content. 
And although Amazon Ads has its own Brand Innovation Lab which helps brands reach customers in relevant and breakthrough ways, it also partners with specialist  and broadcast agencies, such as Electric Robin, to add creative rocket fuel to content ideas. 
"Through our work with Amazon Ads and Prime Video, we guide brands into the future of long-form content, and help them create content that's viewer-led and really speaks to the audiences first and foremost," says Kevin Batchelor, Electric Robin's co-founder and director. "The way we position it is that it's always programme-first; we're saying that we're going to make a new show, and it's going to sit and live on Prime Video."
Brand funding in action
Niall Horan's Homecoming: The Road to Mullingar with Lewis Capaldi is a prime example of brand-funded programming that's viewer-led. The two famous musicians who share Irish heritage took a road trip across Ireland in a 50-minute documentary for Prime Video, funded by Guinness, whose presence as a legendary part of Irish Culture was subtly aligned with the narrative. The black stuff flowed as the pair travelled around the country, visibly on tap, for example, when Horan played a hometown gig.
The World Cook, funded by TUI, also demonstrates the potential reach and entertainment value of brand-funded programming when executed organically. Presented by Fred Sirieix and Emma Willis, the show was hosted on Prime Video and featured 16 international chefs competing in TUI Blue locations. "The alignment [with the travel brand] was really authentic, but it's not the driving factor for why somebody's going to watch the show," says Batchelor. "And that's when it works at its best." While 93% of viewers enjoyed watching the show, TUI saw a 4.5% increase in the perception that it offers a broad variety of destinations and experiences, and a 6% increase in the perception that it is a high-quality travel provider. 
Two other examples show the breadth of BFP across topics, with documentaries that educate and inspire. We Are Ayenda, released during the FIFA Women's World Cup in August 2023, tells the inspirational story of the Afghanistan Youth Women's national football team. As the Taliban claimed power in 2021, the team had to escape the country or risk being captured. The film was created and funded in collaboration with WhatsApp, and focuses on Farkhunda Muhtaj, a former Afghanistan Women's captain, who used WhatsApp to confidentially communicate with the girls to help arrange their escape. WhatsApp's purpose around privacy was thus organically communicated via the brand taking a backseat in the programming.
Meanwhile, Mind Games: The Experiment is a documentary, narrated by Stephen Fry, that explores the relationship between mental and physical fitness. Funded by ASICS, it is based on its global study into whether exercise is the key to boosting brain power, and is underscored by the brand's motto, which is translated as "a sound mind in a sound body."
Building value
While advertising alongside long-form content on TV was once heavily scheduled and gated, on STV campaigns can be live for longer and can be dialled up and down to meet demand, allowing for more strategic planning. 
It means a brand can continue to re-engage audiences over a period of time, says Edwards. "It's about utilising all touchpoints to really maximise the opportunity for people to discover and engage with the content."
There's a slew of ways that customers are engaging with Amazon every day. People can order just about anything they can think of, they can livestream on Twitch, watch Premier League football on Prime Video, dive into award-winning TV shows on Prime Video or Amazon Freevee, and ask Alexa what they should have for dinner. Amazon is already a part of customers' lives, and Amazon Ads' creative toolkit connects it all for brands, with BFP providing a premium and memorable entertainment proposition for them to reach audiences and create ongoing connections. 
"The core of the Amazon Ads business is around understanding behaviours, signals, and audiences," says Edwards. "We can really structure a marketing, promotional and merchandising media plan that takes an audience on a journey right through the funnel." 
"The ultimate example of that for a brand that sells products on Amazon is being able to connect that journey from a really rich, episodic piece of content, say Birra Moretti's Live Italian with Jack Whitehall, all the way through to an 'Add to Cart' functionality, or a 'Subscribe and Save' retail trigger. Brands really see the value in that."
Don't think of brand-funded programming as a one-off piece of content, adds Batchelor, "but as having your brand living alongside another brand as you both grow together."
Getting started
BFP can be one of the most authentic ways to engage audiences. Here are five top tips to getting going.
1 Play the long game. BFP is about creating long-lasting community engagement; not immediate product sales.
2 Have a clear purpose. The best results arise when brands have a commitment to the content and a clear-sighted understanding of their own purpose and point-of-view. Creating bespoke video content can be a neat way for brands to dip their toes into the space.
3 Know your audience. The best creative storytelling in BFP relies on strong insight based on rigorous audience data. It's crucial to understand your audience before you can create content they want to watch.
4 Lean on the experts. Brands that collaborate with experts in entertainment see the best results in BFP which needs to be editorially independent and viewer-led.
5 Extend the shelf life. If you have a solid social presence and digital network, you're well-placed to capitalise on the BFP content and disseminate it further and into different environments.
Discover more about Amazon Ads and brand-funded opportunities.

Birra Moretti 
The brand
Birra Moretti wanted to establish itself as the leading premium lager brand with millennial beer drinkers.

The brand-funded programme
Live Italian: a three-part series with celebrity hosts - comedian Jack Whitehall, presenter Maya Jama and England rugby union legend Lawrence Dallaglio. Each celebrity was joined by local Italian experts to discover their passions for food, music, and sport and share the Italian way of living. 
The ask
Heineken wanted to position Birra Moretti as the Italian beer of choice, connect with beer drinkers over the age of 25, and embed Moretti into the culture through premium content. 
The three-phase execution
Engage Drive high volumes of traffic to the Title Detail Page using impactful, large-format A/V to tease the show's content. A Fire TV feature rotator was the hero placement which drove the volume of qualified traffic, and was supported by a Fire TV inline banner. The creative also featured the three hosts. 
Entertain Drive additional views by using trailer snippets to get audiences excited about the next episode. Online video ads were used via the demand-side platform to tease each episode, featuring celebrity-led highlights. 
Enable Continue the brand story by linking show assets through-the-line and giving customers an easy option to purchase. Additional show imagery and behind-the-scenes video content were used on the Amazon Brand Store to connect the show's theme to the Amazon shopping experience.
The client said… 
"Live Italian sits under our campaign, 'Home of life's simple pleasures'. We wanted to inspire consumers to 'live the Italian way', which is the heart of the brand's positioning. Moretti believes if you live life the Italian way, you can bring a little more joy to your life.

Long-form content enabled us to share with consumers Birra Moretti's Italy. We know Prime Video over indexes with our target audience and we wanted Birra Moretti to become a part of culture – and brand funded programming felt like the perfect way to do this. This type of content also enabled us to partner with some amazing talent with high appeal to our target audience and take us out of the traditional channels to surprise and delight our consumers. Seeing our Italy come to life on screen in a fun and innovative way was a real high!" - Rhian Evans, senior brand manager, Birra Moretti.
"On the first weekend, Live Italian was featured in the top 10 series on Prime. It was a huge success to see Live Italian alongside some other brilliant traditional series. We also conducted an evaluation piece that clearly demonstrated a shift in brand perceptions which link to brand meaning. From a supplier perspective, speaking to our customers about our TV series was a real sell." - Olya Dyachuk, media director, Heineken UK.
For more Amazon content click here