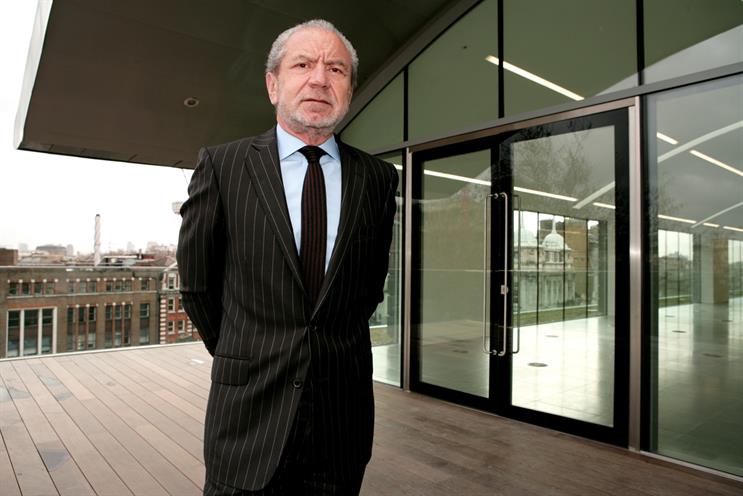 Lord Sugar prides himself on his "no bullshit" approach. As reputations go, it is so well-known, it basically gallops down the street in front of him. The upshot is that it is difficult to avoid meeting him without a sense of trepidation. And said trepidation was magnified ahead of Campaign's most recent encounter when he cut to pieces a senior industry executive in a public Q&A directly beforehand.
Sugar has spoken to Campaign twice in the past: once in 2000, when he was trying to sell the advertising industry the em@iler (a phone with an advertising-funded e-mailing service); and then again in 2009, when he was trying to rent floors of a luxurious office block to an ad agency (because he believes agencies are profligate like that). There is bit of a pattern. This occasion continues the theme.
Today, Sugar wants to talk about digital outdoor media and why his son has not been able to flog advertising on Amscreen's screens in petrol stations to every confec-tionery brand in the country. The problem, he believes, is media and outdoor agencies not seeing a "no-brainer" when it is right in front of them. "The interest of their client is not a priority," he says.
The screens are actually evolved em@ilers and they work wirelessly, allowing copy to be changed in minutes. National campaigns can have regional content added centrally, allowing car marques such as Kia to tailor copy to individual dealerships. Sugar says around 80 per cent of brands that have booked campaigns with Amscreen have returned for more.
In less than four years, Amscreen has built a network of thousands of digital screens across the UK in GP surgeries, convenience stores, Powerleague football centres and petrol stations. The petrol station network has grown internationally with sites in Australia, the Middle East and Europe. Sales are led by Jamie Lindsay, the UK managing director, commercial, and overseen by Sugar's son Simon.
Despite the high number of return bookings, Sugar is not satisfied with the brand count on the Amscreen networks. Just as he thinks more chocolate brands should be snapping up advertising in petrol stations, where 52 per cent of impulse purchases are cocoa-based, he believes all over-the-counter drugs should use Amscreen's screens in health environments.
"I don't get them," Sugar grumbles. "I don't understand why these people don't say: 'Bloody hell, I've got a captive audience of hypos [hypochondriacs] sitting there and I'll bang my Anadin vs Panadol [messaging] on the screens non-stop.'"
One of the issues is getting through to the right marketers and another is making sure the message is taken on board by their agencies. "Even if the clients do get it, they pass it on to their agency, who passes it on to the media buyer, who is so distant from it that they don't get it," he continues. "There needs to be a mentality change."
Sugar also feels media buyers and outdoor agencies do not appreciate the value of the network. The majority of the brands to have booked campaigns, including News International, were persuaded by Amscreen's sales team, not their agencies, Sugar points out. He is getting frustrated.
He says: "We have spent the last three years holding their hands, nurturing these Posterscopes and all these people – what's the other one? Kinetic.
"We've played the game. We've brought clients that have been willing to place money directly with us and we've said 'Nope, you can't do that. Go through the channels. Pay your advertising agency, pay everybody…' in order for us to be respected by these people.
"But, you know what? I don't think they have placed anything with us."
Around 80 per cent of all outdoor ad revenue in the UK goes through the WPP out-of-home specialist agency Kinetic or Aegis'
Posterscope. So far, Amscreen has worked within the system, but Sugar is getting impatient. One of his concerns is the volume rebates paid by the larger media owners affecting where money is spent.
"The lion's share goes to where they get their kickbacks," he says. "How long am I, a person who's not known for his patience, prepared to play this game? People who know me will know I've been a very good boy for the last two or three years. I've been saying at board meetings: 'This is a joke, a total joke.' We're paying out part of the money the client is spending to these people down the line in order to prove to them that we're not a fly-by-night outfit and we are a form of media, but there is no two-way traffic."
It must be said that the outdoor specialists would deny they prioritise anything other than their clients' best interests. And Sugar's accusation of bias is not new: in June last year, the Office of Fair Trading decided not to refer the outdoor advertising market to the Competition Commission, despite finding that rebates "can distort the market".
When prompted by Campaign, Sugar accepts that media buyers are not all bad. "A good, top-quality media buyer who knows the industry and has understood the client's offering is worth his weight in gold in how to place their advertising," he concedes. "But if a confectionery company that gets lots of its revenue in the forecourt of a petrol station has been advised that a company has advertising in your face there, then that good bloke should say: 'This is the place where I should put their money. They'll get much more value in that than a half-page ad in The Sun.'"
Amscreen can offer very high levels of accountability, but Sugar does not feel the buying industry has shown enough interest in that either. Special "Israeli technology" can detect how many people of what sex and rough age looked at the ad and till receipts can show how many actually bought the products advertised.
Sugar certainly has a focused message, and he delivers it with some charm. That is not to say he is particularly cuddly: he looks surprised when Campaign tries to shake his hand. He is the same in the flesh as he is on TV. He insists on everyone using his titles but, after all that hard work, who can blame him?
It is a long time since Sugar started out on Petticoat Lane Market flogging aerials, but it is ironic that Amscreen's success is now in the hands of an industry he has denigrated for decades. His argument is rarely more sophisticated than "Amscreen is a no-brainer". He will not countenance that people might not want to be advertised to in doctors' waiting rooms or that the screens are too small and clunky for brands to want to use them.
Sugar says Amscreen is on track to make a profit this year and admits he could float the company on the stock market if it becomes a "very profitable form of media". A lot of that will have to do with whether he and the team manage to get their message across to the right people and whether they agree it really is a "no-brainer".