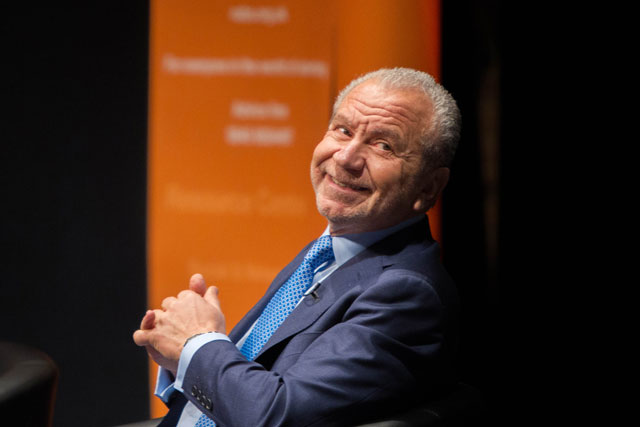 'An Audience with Lord Alan Sugar' on 4 October was organised by Nabs and moderated by Claire Beale, the editor of Campaign, and Marc Mendoza, MPG's chief executive.
During the event Sugar said he often analyses ads and admitted he had been wrong about how consumer habits would change after the launch of Sky+.
He initially believed it would mean an end to ads as "no one would bother watching them anymore".
Speaking to more than 500 Nabs Partner Card holders, 'The Apprentice' star said he had "abstained" from getting involved in the advertising for YouView, admitting "this business is not my business" and, "if ever there was a case of watching the mother-in-law drive the Ferrari off the cliff, this is it".
Sugar said he left the decision to "eminent people", like ITV's Adam Crozier and Channel 4's David Abraham, admitting "they know better".
The British business mogul, who once described himself as an "advertising man's nightmare", continued his attack against ads that win awards without selling products, but conceded clients need creative agencies "in order to survive".
Despite not liking most ads on TV, Sugar said his favourite was last year's "Mrs Jones" for Marks & Spencer, created by Rainey Kelly Campbell Roalfe/Y&R.
And while he liked Honda's "cog" by Wieden & Kennedy London, he could not name the car company behind it. He said: "There was a car ad with the cogs had great photography and was a great ad but I didn't know who the brand was... I don't like the Meerkat ads and have no idea what they're selling... but they win awards and that's what it's about."
During the hour and a half session, Sugar also called Twitter rival Piers Morgan a "twat" insisting he is the only person to stand up to him, and said he enjoyed taking to Twitter to silence his media critics.
He also criticised Apple's technology but conceded they were "fantastic marketers" despite their technology not being the greatest.
Video produced by Georgie Brazier
Follow @brproducers