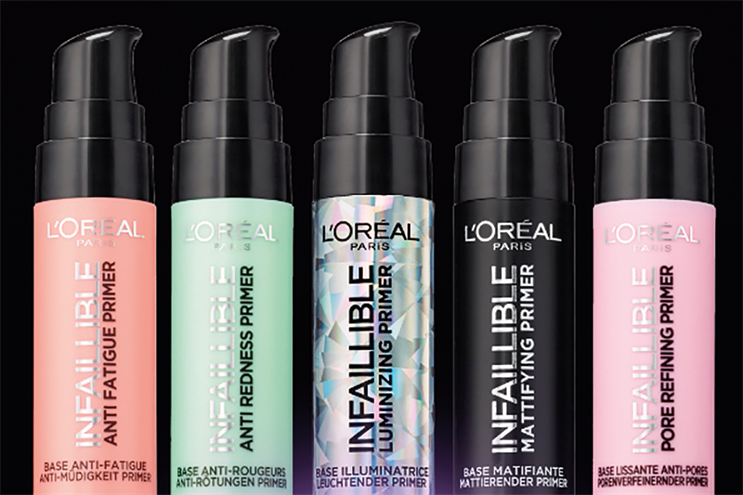 To launch their new #ShapeUp makeup product range, L'Oréal wanted to make a big impact.
The product targets young, outgoing, millennial females – and that's exactly who L'Oréal were looking to reach. They wanted to drive awareness of this new product and grab this particular audience's attention in a bold way.
L'Oréal and its agency partner Wavemaker picked Facebook Marketing Partner Vidsy and Facebook to achieve this goal. They created a campaign to showcase the products beautifully, while conveying the benefits of using them at the same time.
Vidsy took static images, typography and product videos, created by L'Oréal, to produce powerful video creative optimised for mobile. Vidsy's key challenge was to combine these assets, in a short and snappy way, to tell a compelling story.
Vidsy developed punchy visuals that reflected a lively nightclub scene – an environment that the products fit within. Vidsy then created a bank of 10 assets for L'Oréal – each focusing on a different product from the #ShapeUp range, conveying a unique message or creative style to ensure the content could be tested, learned from – and optimised – in the future.
As a Facebook Marketing Partner, Vidsy is regularly updated on the best practices to follow on each platform, helping them to make the content as relatable as possible.
They found Facebook and Instagram perfectly suited the L'Oréal makeup product range – because there are more female than male users on these platforms – and the demographic is skewed towards a younger audience, resulting in plenty of potential to reach a very broad audience.
Three key learnings
1. The campaign identified that the more pro-active copy that was tested, with calls to action such as "Get it now", helps to move consumers from awareness to consideration and increases interest in the product
2. The test and learn approach identified that the two bestperforming videos focused on the same product, out of the entire range, helping L'Oréal to understand which message and product resonated better with their audience
3. L'Oréal discovered that the videos which landed branding, the key product and message from early on in the frames, were the more effective.
Standout results
• The campaign exceeded the benchmark on VTR (view-through rate)
• The campaign generated a healthy CTR (click-through rate), allowing the ability to create more unique custom audiences moving forward
Archie Campbell, co-founder, Vidsy
"In the ever-evolving world of media, mobile and video it's important that brands are utilising new platforms and ad units to talk to their audience. Working closely with L'Oréal we leveraged their existing assets to build new narratives allowing us to increase awareness of the product range with new content unique to Instagram Story ads."
Jeremy Lee, contributing editor, Campaign
"If there was ever any doubt over the power of a big visual idea – no matter the platform it plays out across – then this campaign from L'Oréal blows that out of the water. Visually arresting and with a bold use of copy and colours that showcase the launch of its new #ShapeUp product range in a truly effective way, it's little wonder that its view rate smashed that of its peers. Rival brands sit up and take note."


Rachael Easterbook, product manager, L'Oréal
"For this new product launch we needed to create standout assets for social to grab viewers' attention quickly and effectively to translate the global campaign into a UK-relevant concept. Using Vidsy to create best-in-class assets for Facebook we were able to drive maximum awareness and successfully combine three products to drive the regime story. We also used Vidsy to create dynamic assets for our first ever Instagram Stories campaign on L'Oréal makeup, which brought the campaign to life through integrating the key idea with pack assets to help the storytelling process".
To see this campaign and other great work, check out Facebook's Creative Hub.