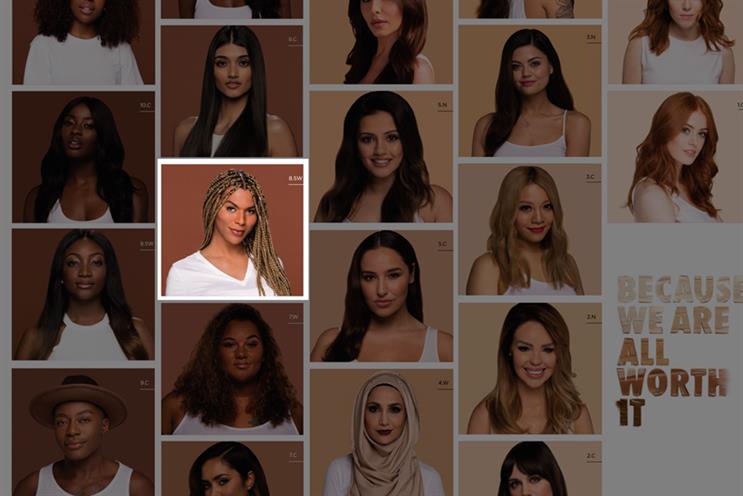 The cosmetics giant wasted no time in sacking the transgender model and DJ after the Daily Mail published comments from a Facebook post by Bergdorf where she stated that "all white people" were guilty of "racial violence". Explaining its action, L'Oréal said the comments were "at odds" with its values.
Embarrassingly for L'Oréal the split came just days after signing up Bergdorf for its "True Match" influencer-led campaign.
But in its rush to shut down the story, did L'Oréal act too hastily?
Soon after it had ditched Bergdorf, L'Oréal faced a backlash from social media users defending her and accusing the company of not caring about diversity or racism.
And when Bergdorf then went on Channel 4 News to provide the context around her original Facebook post, to some L'Oréal's decision looked even more ill-judged.
Nene Parsotam, the co-founder and senior art director of specialist African-focused agency Vine Creatives, said L'Oréal should simply have asked Bergdorf to issue a clarification then stuck with her.
"It would have shown L'Oréal as a company that is looking to tackle the real root causes behind the lack of ethnic representation. This would have cemented L'Oréal's stand on diversity and kept its authentic nature, which it has spent a year establishing," she added.
So was L'Oréal right to sack Bergdorf?
---
Joy Joses
Editor-in-chief and publisher, Melan Mag
"No. The knee-jerk reaction is at odds with the reasons L'Oréal gave for hiring her in the first place. By cutting ties, the company contradicts its ethos to 'support diversity and tolerance towards all people'; Munroe unwittingly gave the company an opportunity to spark a debate on this issue. L'Oréal wasted it.
Of course, not all 'white people' are racists; sweeping generalisations are never helpful, but she clarified that she wasn't talking about the overt, hate crime type of racism but rather the systemic type that is entrenched in western society, fostering a system that benefits and prioritises white people over other races. Institutional racism by another name. This is not news.
Yes, her delivery was direct, but she spoke the truth. L'Oréal scored an own goal by dropping Munroe."
---
Osagie Samuel
Creative director, The Specialist Works
"More controversial than Munroe Bergdorf being fired, is that maybe she had a point about the legacy of colonialism, and unconscious sexism and racism.
But then she accused all white people of being racist. Literally all white people. Guilty of hate speech? Debatable. Guilty of writing bad copy? Definitely.
In one sentence, she alienated the very audience she was attempting to persuade. An audience that makes up the overwhelming majority of L'Oréal's consumer base.
L'Oréal can be compassionate - after all the company appointed brand ambassador Cheryl Cole following a conviction for assault
But sticking it to the customer – that's unforgivable."
---
Juliet Haygarth
Chief executive, BMB
"L'Oréal trumpeted its latest campaign as one that celebrated diversity. The hiring of Munroe, was PR'd from the rooftops as a signal of change and the hastiness in dropping her made this appear a little hollow.
If as an industry we're we're going to champion diversity, there will be difficult debates along the way. Anyone who had more than a superficial knowledge of the campaigning history of the trans community and had done their research properly, would have known that Munroe came with views and a voice.
Brands have the power to do good, but actions need to come from values that they are truly committed to."
---
Matt Charlton
Chief executive, Brothers and Sisters

"Yes, L'Oréal was right to drop Bergdorf. It's a grossly wild and badly expressed view in an area that is hugely flammable. Reckless words that only play well in a social blunderbuss. The horrible trend of shooting your mouth off while shooting from the hip on social media, inspired by Monsieur Trump, doesn't play well in the more sensitive theatre of Paris. This doesn't mean that celebs can't join the debate on big issues without losing the support of brands and sponsors, in my view. But they should be aware that not everyone or every brand wants to engage at this level of gross simplicity and risk mass offence, however important the issue."
---
Nene Parsotam
Senior art director and co-founder, Vine Creatives
"'The initial media coverage of Munroe's Facebook post didn't provide the context for her comments, which focused on the recent atrocities in Charlottesville. Without that, it's easy to see how they were misconstrued. While it's clear that to label an entire ethnic group as discriminatory was not what was meant, it is unfortunate this is what was implied.
No big brand would be comfortable with this or would want to be seen to support it. But L'Oréal's speedy reaction represents a few lost opportunities. It would have been the perfect opportunity to establish a dialogue by speaking with her publicly before making such a hasty decision. As a company that has handled and presented the business case for diversity extremely well thus far, this would have been a huge chance to show that its campaign is more than skin deep (pardon the pun).
L'Oréal could simply asked Munroe to clarify her statements as she has since done. This would have cemented its stand on diversity and kept its authentic nature. In one fell swoop, L'Oréa has done serious damage to much of what it has accomplished."
Sairah Ashman
Global CEO, Wolff Olins

"A transgender mixed-race model activist calling out what she sees as the root causes of racism and misogyny shouldn't be a surprise.
The surprise is that the deal Munroe Bergdorf and L'Oreal struck to represent diversity wasn't better understood on both sides. A positive outcome would have enabled Bergdorf as a brand ambassador to express herself authentically, and L'Oreal to connect meaningfully with a broad audience: quite probably what they both thought they signed up for.
Bergdorf is now left defending her personal views alone, while L'Oreal faces claims its commitment to diversity is only skin deep. It's a shame for all sides, and diversity as an issue more generally."