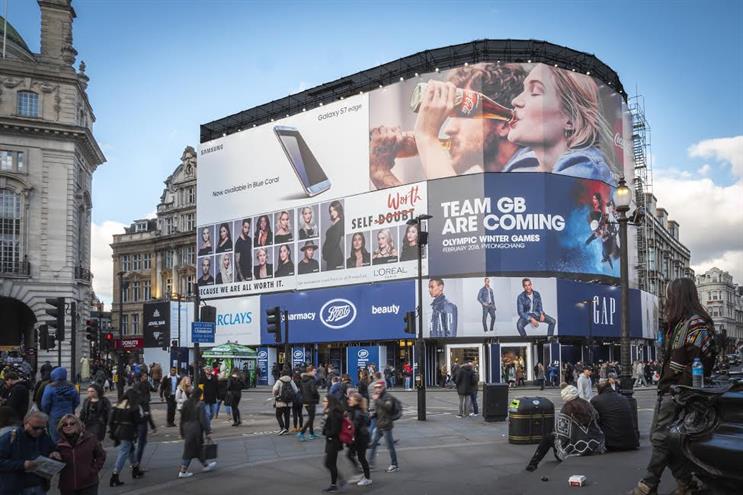 L'Oréal has booked a three-month campaign on the temporary illuminated banner, which is managed by Ocean Outdoor on behalf of Land Securities.
Samsung and Coca-Cola have renewed long-term advertising deals to be featured on the new digital screen that is scheduled to launch in autumn 2017.
However, four of the six long-term advertiser slots remain unfilled.
Samsung and Coke are joined on the banner by L'Oréal which has taken space directly above Boots. L'Oréal's campaign was planned through Maxus and Kinetic.
The British Olympic Association with Team GB has also taken out an ad to mark the countdown to the 2018 Winter Olympic Games in South Korea.
There are also free ad slots given to companies whose outlets are underneath the banner – Barclays, Boots and Gap – as a "gesture of goodwill" for any inconvenience they might experience during the construction project.
The banner is due to come down in October, followed by scaffolding being taken down after that. Work commenced on an upgrade of Piccadilly Lights in January when the screens were temporarily switched off for the first time since the Second World War.
The current patchwork of screens is being replaced with a single LED digital screen. The ultra-HD 790 sqm screen, which will be the largest of its kind in Europe, will combine total screen takeovers by brands and divide into six full segments, preserving the Lights' famous mosaic appearance.