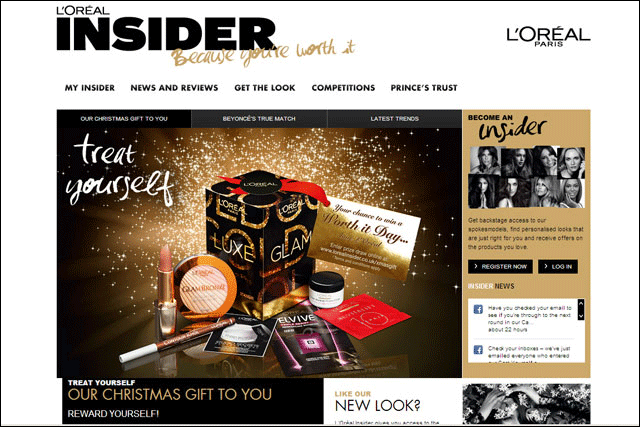 The L'Oreal Insider scheme encourages consumers to open an online account for access to offers of free samples, reviews, expert advice and money-off vouchers for its products.
The cosmetics brand hired digital agency Gyro in May to create the scheme and is understood to have invested £20m in the project.
Visitors to the L'Oreal Insider site must register their details to join and are encouraged to do so with the line: "The more you tell us, the more you'll be rewarded".
Users can also merge their Facebook account with the Insider scheme, to enable them to share promotions and content with their friends on the social network.
It also allows "insiders" to enter competitions, with the chance to win prizes such as a pampering weekend and a Feria hair-product "goody bag".
Although the site is aimed at women, L'Oreal has devised a similar scheme for its Men Expert product range.
L'Oreal is also launching a major competition that offers three members of the public the chance to feature alongside celebrity ambassador Cheryl Cole in a TV campaign for its Casting Creme Gloss range next year.
The contest is tied to the L'Oreal Insider campaign, as consumers can enter only if they register for the scheme.
The rollout comes as the company marks the 40th anniversary of its 'Because I'm worth it' slogan.
The brand was at the centre of controversy in July when its ads featuring Julia Roberts were banned by the Advertising Standards Authority over complaints that the shots had been digitally manipulated.
In August, the company moved away from its tendency to use high-profile celebrities in its marketing, with a digital campaign for new products in its Men Expert range.
ollow Sarah Shearman on Twitter @Shearmans