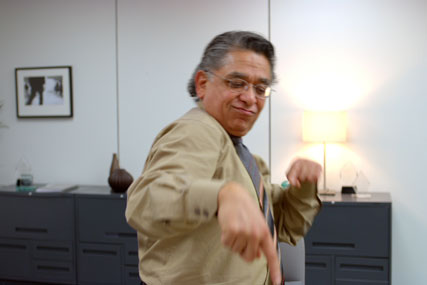 Created by AMV, the ad opens in the middle of a dull presentation given by a managing director to an unenthusiastic group of office workers.

Noticing the lack of energy, the MD then announces 'Let's pump this party' and hip hop track 'Let Me Clear My Throat' by DJ Kool begins to play. Everyone dances briefly before the music stops, they scramble to their seats and the presentation continues.

The strapline 'Put Some PLAY in Your Day' appears on screen and transforms into a £100,000 scratchcard.

A second ad depicts an office worker wining a scratchcard game triggering a burst of confetti and streamers, setting off a chain reaction around the building.

While the transformation theme has appeared in previous scratchcard ads the new creative look and feel and the strapline "really establishes the playfulness of our products", according to Camelot marketing director Richard Bateson.

'Put some play in your day' will be used for scratchcard campaigns across 2010 and 2011. Recent campaigns have not had an overarching strapline.

The campaign will also include 10-second ads communicating the message that there are four National Lottery scratchcard winners every second in the UK.

The media side of the campaign is planned by MPG and bought by OMD.