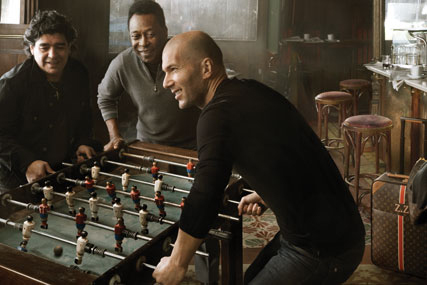 The activity, which appears in the May issues of international magazines, has been created by Ogilvy Paris and shot by Annie Leibovitz. The images portray the stars from Brazil, Argentina and France meeting up in a bar in Madrid, and then playing a game of table football.
The activity is supported online through the website louisvuittonjourneys.com, which features a conversation between the three players who recall their careers and the matches they played in.
Louis Vuitton has also announced a partnership with FIFA, in which the fashion label will create a new travel case for the FIFA World Cup Trophy. Currently in the design stage, it will be used for the first time at the 2010 FIFA World Cup in South Africa next month.
The trophy remains in the possession of FIFA, while the winner of the World Cup takes home the FIFA World Cup Winner's Trophy.
Louis Vuitton at its workshop in Asnières, France, designs and makes around 450 special orders, such as the FIFA travel case, every year.
Antoine Arnault, head of communications for Louis Vuitton said: 'The world cup trophy should be brought on to the pitch in its case and revealed by a Louis Vuitton ambassador, in front of millions of fans and viewers.'
He added that that the new campaign featuring the footballing legends had no connection with the FIFA partnership, citing previous campaigns featuring Keith Richards as well as Steffi Graf and André Agassi.
Arnault said: "By working with Pele, Zidane and Maradona for this campaign, we have wanted to use some international legends, not football stars. This new campaign, as well as the special order from FIFA, are not for us a step into football as a sport. It is very good timing for FIFA to place this order just before the world Cup, when millions of viewers will be united all around the world.'