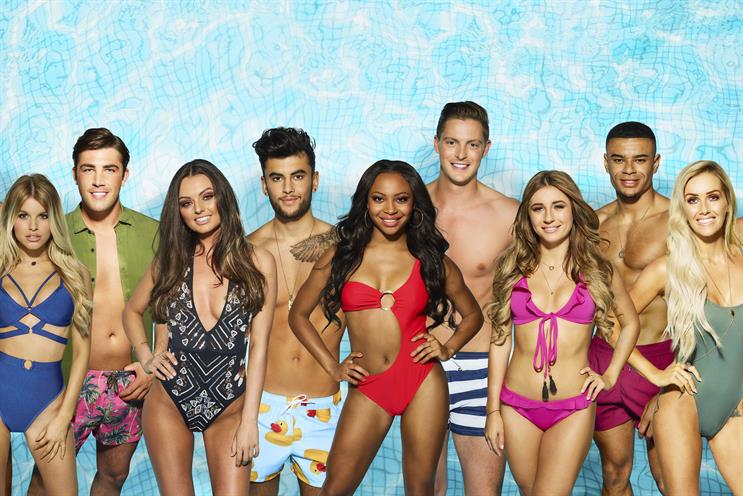 The fourth series of the show opened with record-breaking viewing figures for the channel, at a peak of 3.4 million people, last Monday. For the first week, overnight figures show that Love Island averaged 2.6m viewers, almost double last year's total.
But even better news for ITV and the brands it's working with is that Love Island has once again managed to bring in the hard to reach 16- to 34-year-olds. On average 1.3m younger viewers tuned in over the first week, with a 42% share, which was up year-on-year by 700,000 viewers and 21 share points.
"It's a very, very important show and has a difficult to get audience – young people – because it speaks their language," ITV's deputy managing director for commercial Simon Daglish says. "From a commercial perspective it's gold dust."
Since last year's unexpected rise in popularity – the final attracted a record-breaking peak of 2.9 million viewers – the broadcaster has been working hard to harvest the success.
ITV is working with 10 brands this year, compared with last year's three, but it's far from straightforward sponsorship. Daglish explains that the nature of entertainment shows allows "lots of ways to carve out strategic platforms for advertisers to get into".
Superdrug, the main sponsor, returned this year, as have Primark and Ministry of Sound, which will be producing an album based on the show.
This year, ITV is working with a further five brands: Rimmel London, which has created new make-up lines specifically for Love Island, such as temporary tattoos; Echo Falls, which has Love Island branding on its products; Jet2 as the travel partners, Kellogg's Cornflakes to sponsor the new daily podcast; LucozadeZero to sponsor the first look social content; Missguided for the clothing for the contestants; and Samsung to provide its handsets so that the Islanders can shout "gotta text" every time they receive instruction from the show's producers.
And then there are the ad breaks, which "are so much better this year" says Daglish.
"The first episode had H&M, Missguided – brands that are very much geared to Love Island. The creative has responded to what is a growing phenomenon and brands have made ads that sit very well alongside it."
Daglish also praised Lucozade's campaign as "a real advert for how well creative and media comes together". The brand worked with ITV's production team to make the spot.
Mat Goff, joint chief executive at Adam & Eve/DDB, believes that the current ads around the show are "quite tactical" rather than focusing on a big creative idea, but he thinks that this will change over time.
Dino Myers-Lamptey, managing director for MullenLowe Mediahub, believes ITV's social media strategy has really stood out. "It is constantly feeding people with information and it's what viewers are hungry for. Where traditional brands are cautious of an always-on strategy and working with influencers, Love Island is letting it go a bit.
"Love Island as a brand does not have to take itself too seriously… so brands should also take this on and be a bit more playful, such as Lucozade."
As the contestants battle it out for the £50,000 prize, Goff thinks that there's a lot more that ITV can do with the show. "It's a glimpse into how TV can build a platform that brands can get involved in," he says. "It has such an engaged cohort … something that we've been crying out for."