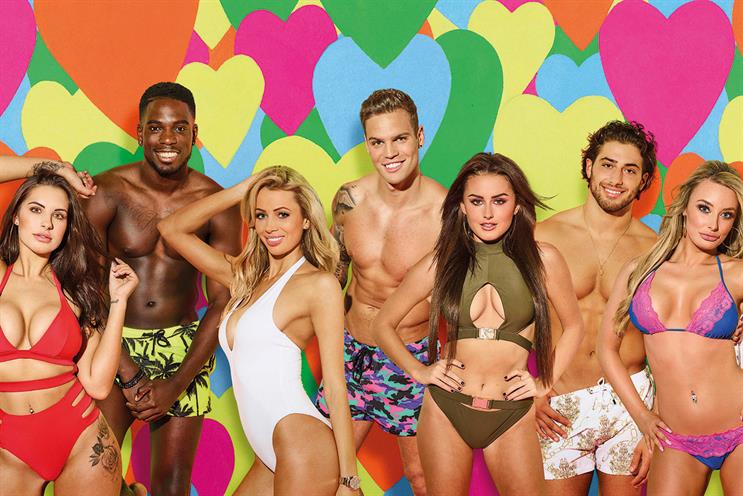 Overall, the series' highest average audience was 2.1 million viewers – a big jump from last year's 1.3 million and the first series' 737,000. Across the current series, Love Island is averaging 1.6 million, up 73% year on year.
The show's popularity has grown gradually, Kelly Williams, ITV's managing director of commercial, explained. "Year one was a risk because it's a relatively expensive show," he said. "The big decision was recommissioning it for a second year. It doubled its audience. This year, it's doubled again; it's just hit the zeitgeist. We get very frustrated when media professionals say young people don't watch TV any more, it's absolute nonsense."
Data from Blue 449 shows that TV viewing among young audiences has declined in recent years. The number of 16- to 24-year-old viewers in 2015 fell 13% year on year. This trend continued in 2016 with a 20% decline. For 16- to 34-year-olds, there has been an 11% drop since 2014.
However, ITV2 bucked this trend in 2016 when its 16- to 24-year-old audience increased 22% year on year. This is likely to continue because "Love Island often outperforms Channel 4's top shows", Tim Greene, group trading director at Blue 449, said.
Thirty per cent of Love Island's live viewing is via the ITV Hub on-demand platform, which has surprised executives at ITV. Paul Kanareck, group director of online at ITV, said 75% of the UK's 16- to 24-year-olds are registered on the ITV Hub, up from 50% in December last year. He added: "People always think on-demand services are about catch-up, and that tablets and iPhones are second screens, but we're discovering that for many people they are second TVs."
Ruth Cartwright, head of AV at Amplifi, added that ITV has also taken a "fresh perspective" in terms of promoting the show this year. "It is more product-led and reactive to the show, using everyone's favourite phrases: 'grafting', 'on paper' and 'muggy'," she explained.
ITV has sold 75,000 water bottles of the same style as those used by the contestants and has struck a deal with Primark to sell slogan T-shirts.
Contestants who have left the villa have been quick to commercialise their social media presence with sponsored posts – income that ITV does not share.
However, Simon Daglish, ITV's deputy managing director of commercial, is not concerned by this. "ITV might make these people famous but we don't own them," he said.