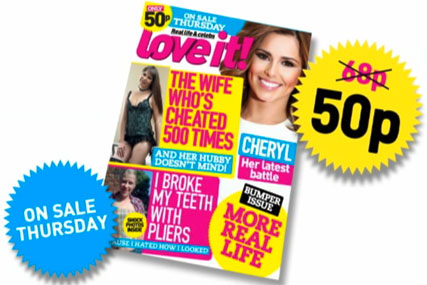 The campaign, created, planned and bought by Twenty Twenty Media Vision, includes two 10-second spots, which break tomorrow (7 September), on terrestrial and satellite TV. Radio activity is expected to launch next week, although this has yet to be confirmed.
The magazine, published by Hubert Media UK, will be priced at 50p during the two-week campaign, which is also designed to promote its revamp, which includes increasing pagination from 56 to 68 pages.
Luke Patten, managing director of Hubert Burda Media UK, said the new magazine was also now concentrating more on real-life stories than celebrities.
The campaign is the second launched by Hubert Media for Love It! since it bought the publication from News International in 2009.
Bill Jones, managing director of Twenty Twenty Media Vision said: "We are delighted to be working with a prestigious publisher in our first year of trading"
Jo Checkley, editor of Love It!, said: "The Team at Twenty Twenty quickly captured the essence of our magazine and used the information to produce a campaign that matched it's character and feel exactly"
German publisher Hubert Burda also publishes Your Home, Full House and Essential Kitchen Bathroom Bedroom.