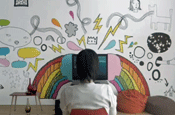 The ad, created and produced by The Love Commercial Production Company, features a boy playing on his console when the room comes to life with a range of animation.
This includes faces, trees, scribbles and doodles. It is designed to showcase the wider communities that PlayStation connects a player to.
The 60-second spot was directed by Terry Hall and art-directed by Julian Nagel. It will play at a number of events globally including trade fairs.
CreditsClient:
Sony Playstation
Title:
Drawing Room
Agency:
love, London
Production Company:
love, London
Director:
Terry Hall
Producer:
Lesley Queen
DP:
Kasper Tuxen
Art Director:
Julian Nagel
Editor:
Paul Hardcastle
Post Production:
Lime
Colourist:
Steffan Perry @ Framestore CFC