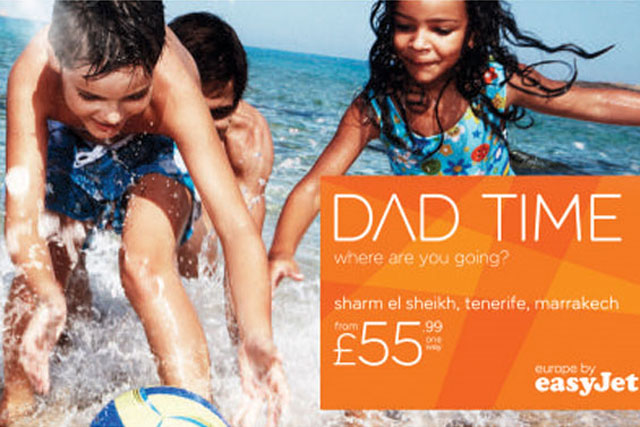 The trade off when choosing cheap flights is cheap service. Budget airlines have boomed over the past decade as a result of this basic premise.
Price-led brand messages have long been inherent in easyJet and Ryanair's advertising. However, a category that thrived on the back of £10 flights is showing signs of maturing and attempting to appeal to more aspirational consumers.
There has been a significant shift in the marketing strategies of the two biggest low-cost airlines over the past month, which could signal a change in the no-frills flights industry.
Creative shift
EasyJet has unveiled plans for a £50m ad strategy that will be a departure from its previous price-first press ads, which were instantly recognisable by their white-on-orange text. The campaign begins next month.
In July, meanwhile, Michael O'Leary, Ryanair's outspoken chief executive, turned heads by announcing that his airline is drawing up plans for a marketing campaign to advertise itself as 'low-emissions', and the 'greenest' on the runway (Marketing, 27 July). While this message will feature alongside bold pricing, it still represents a shift toward a more brand-led creative.
EasyJet has already dipped its toe in brand-led marketing with summer poster ads, created by Publicis London. However, its latest campaign, created by VCCP and led by former Audi marketer Peter Duffy, will be its biggest push to date, and put a lifestyle message at the centre of its brand positioning. The strapline asks 'Where are you going?' It is clear that Duffy intends to take the brand to greater aspirational heights, but the question remains: is there any need to 'dress up' low-cost airlines?
Ryanair head of communications Stephen McNamara says that, despite other campaigns, price will remain at the core of its positioning. He claims the approach is about more than offering a cheap service, as people 'who save on airfares can afford a better lifestyle'
Tit-for-tat
Not missing an opportunity to perpetuate the rival airlines' tit-for-tat exchanges, McNamara adds: 'The big benefit to Ryanair of easyJet spending £50m is that its costs, and therefore its fares, will increase, making it even less competitive.'
Duffy, who declined to comment on Ryanair's methods, says easyJet's latest work is about injecting a 'European flavour' into the brand. The campaign's strapline will be translated into other languages. This represents an effort to connect with consumers, pushing the idea that easyJet doesn't just fly people to the Continent, but is also part of their holiday experiences. The work will also have a strong social-media element, using staff and consumers' holiday photos in press and TV ads.
Simon Lilley, marketing director of flybe, notes that easyJet has been gradually moving its product set toward a 'middle ground', which, he claims, is his airline's heartland. 'At flybe we have a layered approach that delivers themed campaigns with route and price hooks,' he adds.
EasyJet is making a 'smart move', according to Nick Fox, chief client officer at agency DDB UK, which works across the Star Alliance carriers. He believes that easyJet 'must appeal to travellers on an emotional level'.
Fox concludes that the low-cost message has been hammered home. This means that low-cost airlines will increasingly base their marketing on the part they play in holidays, without fear of affecting price perception.
INSIDE VIEW - Peter Duffy, marketing director, easyJet
"It is clear to customers what the easyJet brand is all about. We're the fourth biggest airline in the whole of Europe, offering great-value prices, and a good experience to customers.
When Stelios Haji-Ioannou set up the airline 15 years ago, he democratised travel. We're an 'everyman' brand.
Twelve months ago, Carolyn McCall came in as chief executive bringing with her a fresh management team and a new strategy.
She is looking at creating a communications programme that matches our customer base appropriately, and how we develop business as well as leisure streams.
The campaign talks to our full range of customers: on one level the brand message is our great prices; on another it is about our great people.
The idea is that we are capturing those great moments that people remember as they travel across Europe, not just those stereotypical pictures of the Eiffel Tower or other landmarks.
We have already commissioned some of the photography to get it started off. However, the idea is to get customers participating in the campaign, representing those moments when they connect with other individuals while on their travels."