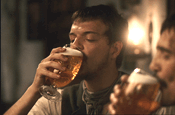 View the best Stella ads by Lowe

The news marks the conclusion of heated conversations this week following InBev's decision to hand the launch brief for its new 4 per cent variant to Mother.

The decision by Lowe sees the end of one of the most fruitful partnerships in advertising history.

Stella Artois' "reassuringly expensive" endline was first conceived in 1981, before Frank Lowe quit previous incumbent Collett Dickinson Pearce to set up his own agency.

The strategy has subsequently given rise to such classics as the Jean de Florette-inspired series of commercials.