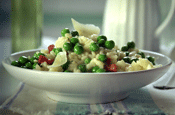 The first stage of the wideranging pitch has already been concluded, with Interpublic Group's Lowe winning the global accounts for Knorr's soups, culinary products range and stock cubes, as well as its new product development.

However, CHI & Partners and the incumbent, JWT, are still battling for the remaining portions of Knorr's global business.

The appointment continues a recent vote of confidence in Lowe. It picked up the global Magnum account in January after a pitch against DDB.

Unilever Bestfoods consolidated its pan-European advertising business into JWT in 2004. It is understood that the network will continue to have some strategic input on the Knorr brands now assigned to Lowe.

The ongoing pitch is an opportunity for CHI to join the Unilever roster for the first time. It comes after the agency sold a minority stake to WPP last year.

Silivia Lagnado, the group vice-president of savoury at Knorr, said: "Lowe has a strong record of delivering compelling creative solutions which drive growth, and the particular projects we have in mind will benefit from that approach."

Omnicom's DDB handles Knorr in parts of North America, the Middle East, Africa and Australia, and its relationship is understood not to be affected by the review.

Knorr is Unilever's biggest global brand. In the UK, sub-brands include Chicken Tonight, Ragu, Beef Tonight, Stir it Up, Sizzle 'n' Stir and the Touch of Taste range.