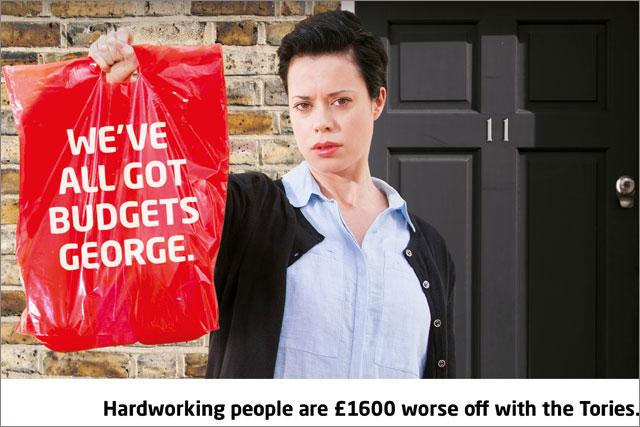 The ad, which will be used on social media and digital 48-sheets outdoor sites today, shows a woman holding up a red plastic bag that reads, "We've all got budgets George", in reference to the chancellor, George Osborne.
Under the photograph is the Labour Party logo and the line: "Hardworking people are £1600 worse off with the Tories."
The creatives behind the work are Brooke-Taylor, a founding partner of the agency, and Kit Dayaram. The campaign was devised with the Omnicom media agency M2M.
Calcraft, a founding partner of Lucky Generals, said: "We are honoured and delighted to be working for the Labour Party.
"On this Budget Day, Mr Osborne needs to be reminded that many hard-working families are not feeling the effects of recovery. There is still untold pressure on household budgets, and Tory statistics don't pay bills".
Calcraft said the woman in the ad is a single mum who works part time and votes Labour.