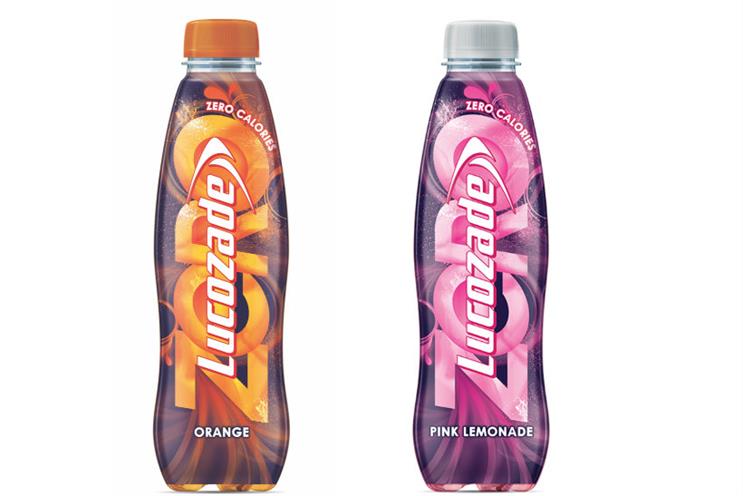 The decision was made to give consumers a "healthier choice without compromising on flavour", the company said, with the Zero brand designed to be exempt from chancellor George Osborne's sugar tax on soft drinks, which comes into effect in April 2018.
Lucozade Zero will come in two flavours, Orange and Pink Lemonade, and goes on sale from 2 May. The new packaging has been designed to stand out on shelves.
The company is spending £5m on a "disruptive marketing campaign" to drive awareness of what it describes as its biggest product launch of 2016. Advertising and marketing activity, will be aimed at driving awareness and footfall in-store, and will include point-of-sale material and striking display units.
Lucozade Zero will be sold in 380ml price-marked packs and non price-marked packs across wholesale and independents, with 500ml, 1l and 380ml multipacks also available in convenience and grocery stores.
Charlotte Flook, Lucozade Energy's senior brand manager, said: "We are really excited to be launching this innovative new drink. Lucozade Zero offers people the chance to enjoy two of their favourite flavours with lower calories.
"This new launch is another way that Lucozade Ribena Suntory is delivering on its ambition to reduce calories across its portfolio by 20%."
According to health campaigning group Action on Sugar, a one-litre bottle of Lucozade Energy Pink Lemonade or Caribbean Crush contained 14g of sugar per 100ml.
However, the brand features lower proportion amounts of sugar than other energy drinks, with Sainsbury's Orange Energy Drink in one-litre servings containing nearly 16g of sugar per 100ml. Per portion, the worst culprit is Rockstar Punched Energy + Guava Tropical Guava Flavour, which contains 15.6g of sugar per 100ml.
This isn't the first time Lucozade has dabbled with low-sugar products, launching Lucozade Energy Reduced Sugar in August 2014, which carried 4.18g of sugar per 100ml.