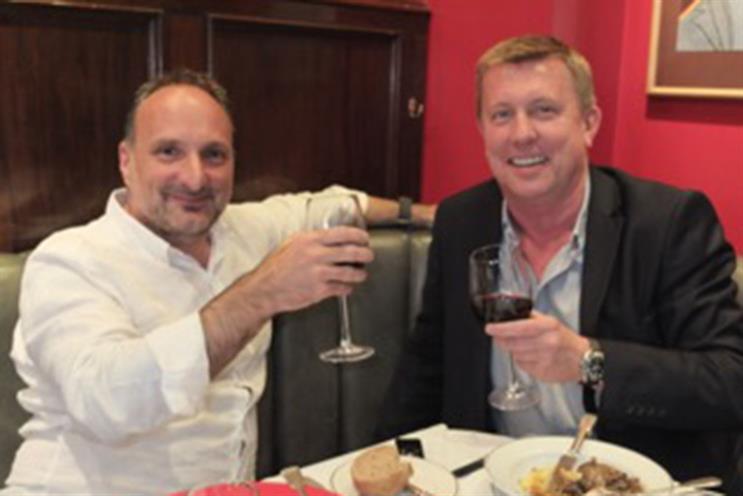 The lunch begins with a Starter for 10, during which the guest is asked 10 questions. We then move on to the main course and discuss the guest's current role and company in a little more depth, before finishing with dessert, where we look into the future.
The guest gets to choose a whine (or a whinge) and ends the meal by leaving a tip for someone starting out in the business.
My lunch guest today is Mark Hollinshead, the former COO of Trinity Mirror, and currently CEO of Great Run, the company responsible for the Great North Run, the Newcastle half marathon taking place this weekend with a record 57,000 runners.
Mark was also recently appointed as a non-executive director of Dentsu Aegis' regional business within the UK.
Starter for 10
What character from Game of Thrones would you be?
Who's the guy from Robson and Jerome, the blond guy, the singer? He ran the great Birmingham run this year and is the only one I know.
You're from Birmingham?
I'm not from Birmingham, I'm from the Black Country.
It's the same thing isn't it?
No. Not at all.
Well it sounds like you all come from the same place
No, there's a hell of a difference. I'm from Wolverhampton. Wolves. I'm the other fan of the football team.
Who's the other one?
Phillippa Brown. She's the other one. We were going to start a club called the Wolves In London but decided against it when we realised we'd be known as the Willys.
You've been on all sides of the fence – media owner, media agency, and now client. What's been the hardest?
Media owner. You have to fight harder for the money. I think being on the media owner side gives you a better grounding and those that move from media owner to media agency or client usually are quite successful.
What keeps you up at night?
Worrying about the kids.
You never worry about work?
Not anymore.
Are you more William Wallace or Edward Longshanks?
More Mel Gibson with a bit of Robert the Bruce.
Were you ever hacked?
Not to the best of my knowledge
What's your favourite page in The Sun newspaper?
The crossword, as it's the only one I can do, and yes I do read it.
Best editor or journalist you ever worked with?
There are two. Chris Oakley, with whom we built Midland Independent newspapers. The other is Lloyd Emberly, who we promoted to editor-in-chief and he did a great job.
Do you still buy the Mirror?
Not every day. I go online a lot, but I do still read it
What's your other medium of choice?
The Times for business and sport and, as I live in Scotland, I'll buy the Sunday Mail.
Before I ask another question can we take a photo?
Can we remove all the bottles and the whiskey chaser first?
Can I get the gun out?
What gun? Why do you have a gun?
Since you made me redundant, the revenue figures at the Mirror have spiralled downwards and there's been no real revenue uplift on digital, compared to the loss in print revenue. Was that why you left?
Ha ha. No.
You commuted to and from Canary Wharf from Scotland for many years, so you must have racked up hundreds of thousands of air miles
I did. I spent my life on planes. I've used them all up on ferrying the kids back and forwards to exotic places around the UK. I can honestly say I've met almost every stewardess on all the domestic routes in the UK. And I think I could tell you the name of each pilot just from listening to his voice.
So if you had to choose, would you prefer to be the pilot or the co-pilot?
Always the co-pilot.
The main course
You began your career working in an ad agency. What were you doing?
I was an account exec in an agency in Norfolk. I only got the job because I was a black belt in karate and the owner of the agency wanted me to teach him self defence.
Did you twist his arm for the job?
That's wrestling David.
Did you enjoy being on the agency side?
Yes, except I had to drive around in a red Fiat Strada with big gold lettering saying the name of the agency, "David Cocks Advertising" on the side, which was slightly embarrassing.
Have you seen my website, pawresponsemedia.com ?
That could be my next business venture (unfortunately you'll have to visit the website to get that gag).
How did you end up at the Mirror?
I started with the Express and Star in Wolverhampton. We were then taken over by Ingersol publications. They put the business up for sale and we had a management buyout. We then sold it to Mirror group.
I got a call late on a Friday afternoon to meet the CEO, and you know yourself what it means to meet the CEO late on a Friday afternoon. It's never usually good news.
Thanks for bringing that up
However it did turn out to be good news as at that point David Montgomery offered me the MD role running the Daily Record and Sunday Mail. I accepted, and stayed there for 17 years.
What was it like being under Sly Bailey for so long?
Sly promoted me to MD of the Mirror. I had nine great years working with Sly and she taught me one key thing, and that's strategy is not just what you do, it's when you do it.
Sounds like good advice
Well, that's why I'm now working for the Great Run Company.
Do you have any regrets when you look back at the Mirror?
Not at all. I was lucky enough to work with some terrific people. It was a great team. There are a few still there and those that have left have all gone on to do some fantastic things, including your good self.
It was a surprise to many when you were not made CEO after Sly Bailey left. Was it easy to accept the COO role?
Not initially, but that was a decision made by the board. I did feel at the time when I accepted the role that it would be a two-year role as there were other opportunities I wanted to pursue, and subsequently have.
You were in charge of The Pride of Britain. That must have been fun?
I remember sitting up at three in the morning once with Kenny Daglish, Sam Allardyce, Alan Hanson, Jamie Redknapp and John Bishop, pretending I knew something about football, which as a Wolves supporter I had little to contribute to the conversation, so went to the toilet.
As I was going towards the loos, walking towards me was Jane Seymore, Shirley Bassey, and Joan Collins and I actually bowed.
Why were you going to the ladies toilets?
It had been a long night.
You're mates with Kenny Daglish. How did that come about?
He called me up one day when I was MD of the Record to bollock me about something one of our reporters had written about him and the way his team (Celtic) were playing.
I said to him, "Kenny, this story is not just in the Record, it's in The Sun, The Herald, it's everywhere… it's even in the South China Morning Post".
And he replied, "Yes, but my mother doesn't read the South China F**king Morning Post." And we became friends after that.
Do you still socialise with him?
Yes. Although he once took me to La Manga to play golf and that was almost the end of our friendship, as I don't play golf.
Having met Kenny briefly though you, I can confirm that he doesn't suffer fools gladly
No he doesn't. Took me six shots to get off the first tee. I then hit a security guard in the back of the neck on the seventh tee. On the fourteenth tee I narrowly missed some kids in a pool on a villa next to the course. Kenny wasn't happy.
You're now CEO of the Great Run Company. One of your passions used to be running. How did you get a job that fits in so well with something you love?
I was chairman of Scottish athletics for a while and was introduced to Brendan Foster who asked me to join Great Run as a non exec. I then became deputy chairman and was tasked with finding a new CEO, so after touring a few headhunters …..
You put yourself up?
No. They suggested that I should do it. That was over two years ago.
What does Great Run do other than the Great North Run?
We have 38 events across the UK.
Do you have to run each one?
No but I have run most of them. We are the market leader in mass participation events. We have seven out of the top 10 mass participation events in the UK including the Great North Run, which you've done David, although I believe they were sweeping up behind you as you were finishing?
Almost. The first year I was at the back because I ran it with Dom Williams of Amplifi, and he hadn't checked his bib beforehand so we were standing at the back with 55,000 in front of us and one pantomime horse and a man dressed as a dog behind us.
The horse and dog beat us as well.
It's the biggest run in Europe and it's happening on Sunday 13 September. Any chance of a couple of Golden Tickets? (A Golden Ticket means you get to start at the front with the celebs and the elite runners and also get a rub down in the VIP tent afterwards.)
It's a bit late in the day for now but if anyone wants one for next year I'll let you have four to give away providing they run for NABS.
Thank you. The first two people that send me emails with the names of my dogs get two tickets each. With four Golden Tickets to give away I could be Willy Wonka.
Perhaps a run might help that. We have Great Runs in Glasgow, Edinburgh, Manchester, Birmingham and Dublin. And we also have the Great Ethiopian run in Addis Ababa.
Could I get a golden ticket for that?
No.
Dessert
You've got 57,000 people running in the Great North Run. How do you top that?
There are gaps in the country where we could host Great Runs and there are gaps in the calendar. There's a lot of interest within this area, and with sports marketing in particular at the moment.
We have sponsors such as Morrison's, Lucosade, Puma, Bank of Scotland and Virgin Trains, all of whom want to be associated with a pastime or sport that involves healthy living.
Yes we are a business, but we want to get a lot more people running, swimming and cycling,
If you work for Great Run do you have to run?
We have an office that is littered with Olympians. It's a very fit, lean organisation.
Pick a Whine
Programmatic advertising. Its commoditising audiences and whenever you do that you naturally see rates decline, and that's annoying.
I don't think businesses should be chasing eyeballs at any cost but should be developing engagement with quality content to become destination brands. The MailOnline is a good example of a company doing it right.
Leave a tip
My main tip is to listen more than you speak and learn everything about your product inside out.
Finally, who was the best commercial director that you have ever worked with?
David Emin. Would you put the gun away now please.
What we had to eat and drink
Wine: One bottle of Boisdales Claret
Starter: Mark had the Mini Roast Macsween Haggis with a noggin of Glenfiddich poured over his haggis, and David had the Seared Scottish Scallops
Main course: Mark had the Rib Steak Truffle Burger and David had Pork Fillet
Dessert: No dessert for two athletes such as us
If you fancy lunch with David or want to grab a pair of two Golden Tickets for next year's Great North Run, send an email to davidemin@me.com
If you have the appetite to enjoy the same lunch as David and Jonathan go to www.boisdale.co.uk
Boisdale Life Magazine is part of the Boisdale Restaurant Group.

Distributed across The City, Canary Wharf, Belgravia and Kensington it has an audited circulation of 161,152.
For more information on Boisdale Media and Events go to www.boisdalelife.com.