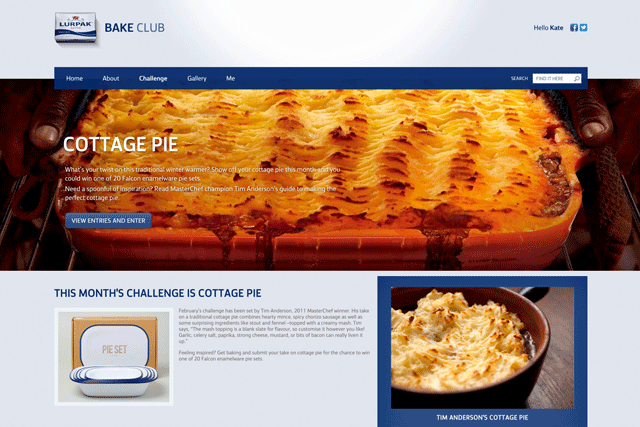 The site offers the chance for users to share their own food idea by uploading images of their food, and provides a different "food mentor" each month to offer new recipes and tips.

Bake Club's first mentor is Tim Anderson, the 'Masterchef' 2011 winner. At the end of each month, the selected mentor will choose winners from ideas submitted by the community.

Lurpak will also run a series of Bake Club events throughout the year. The first will be hosted by baker Lily Vanilli and be attended by winners of her Bake Club challenge in March.

Dan Rutherford, the creative strategy director at Outside Line, said: "People love to share images of their baking creations, with all their glorious imperfections – whether it be via Instagram or Twitter.
"There's a certain pride and an undoubted sense of achievement with baking, and that's what the Lurpak Bake Club empowers and celebrates."
Samantha Peel, the Lurpak brand manager, said: "The new Bake Club site really allows us to tap into the passion around baking – making it easier for good food lovers to share their proud bakes and seek inspiration from like-minded foodies."
The relaunch of Bake Club comes on the back of Lurpak's current 'Good, Proper Food' campaign created by Wieden & Kennedy London.